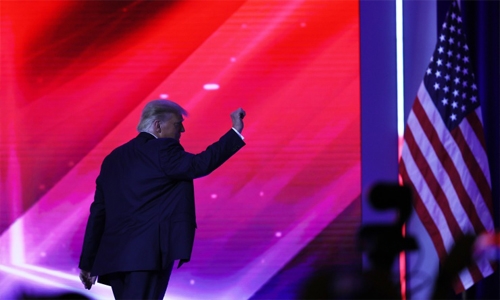 Trump does not rule out running again in 2024, is against a new party
Agencies | Washington
The Daily Tribune – www.newsofbahrain.com
In his first public appearance since leaving office, former US President Donald Trump did not rule out the possibility that he might run again in 2024.
Speaking at the Conservative Political Action Conference (CPAC) conference in Orlando, Florida on Sunday, the Republican did not expressly declare that he would be running again in the next US presidential election.
But hinting at a possible fresh run in 2024, the one-term former president said that "I may even decide to beat them for the third time."
Trump was implying that he actually won the November election against Democrat Joe Biden, dpa reported.
The ex-president, who moved to his Mar-a-Lago resort in Florida after leaving the White House on January 20, continues to repeat his claims about a "stolen election" and steadfastly refuses to admit his defeat.
Biden got 81 million votes in the election and a clear majority of the electorate. More than 74 million Americans voted for Trump.
Trump also rejected calls for the founding of a new political party.
"We have the Republican Party," he asserted, adding that the party would be unified and stronger than ever before.
He dismissed reports about the possible founding of a Trump party as "fake news."
Trump sharply criticized Biden's policies, which is unusual for a former US president who only left the office quite recently. Trump charged that Biden had "the most disastrous first month of a president in modern history," and accused him again of wanting to turn the US into a "socialist country," a familiar Republican rallying cry.
Trump remains very popular with the Republican party and his base. In an informal poll of CPAC participants, 95 per cent were in favor of continuing Trump's policies. 70 per cent would like Trump to run again in 2024.
Loyal Trump supporters had gathered at the conference in the past few days. They shouted "USA, USA," "We love you" and "you won" at Trump's speech at the close of the CPAC conference.
Critics of the former president from within the party stayed away from the Conservative conference this year.
The annual event normally takes place in Washington but was moved to Orlando this year due to looser Covid-19 restrictions in Florida.