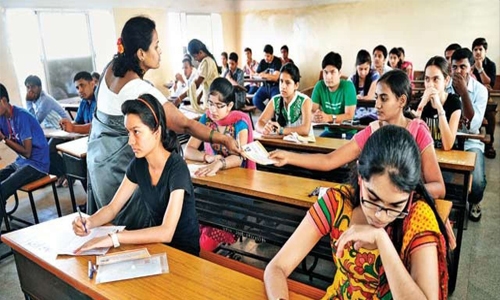 Indian students in Bahrain may get a chance to sit suspended JEE exams soon: Indian Embassy
TDT | Manama
The Daily Tribune – www.newsofbahrain.com
Students might get a chance to sit for the India-based Joint Entrance Examination or JEE (main) 2021 in Bahrain after the exam to be held on 23rd this month was suspended at the last minute, citing COVID-19 restrictions.
Indian Embassy, in a statement to The Daily Tribune (TDT), said they were in "touch with the National Testing Agency (NTA) of India regarding the conduct of JEE (main) 2021 in the Kingdom."
Talks are also ongoing regarding "the February session exams not held in Bahrain due to Covid-related restrictions."
The embassy confirmed: "A suitable plan will come for the conduct of B.Arch/ B.Planning papers, in the interest of the candidates."
For B.E./B.Tech, the embassy said, "The candidates could appear in the March session, along with other candidates."
For further updates, the embassy said, "The students should remain in touch with the National Institute of Bahrain, as well as NTA and Embassy websites, and social media handles."
Many students had told TDT that the authorities left them in the dark until the last minute regarding the decision to cancel the exam.
"The exam centre informed an hour before the first batch was supposed to write the exam on 23rd that due to COVID-19 restrictions the exams cannot be held," students and parents said.
The JEE Main comprises two papers. The Paper1 is for admission to Undergraduate Engineering Programmes (B.E/B.Tech) at NITs, IIITs, other Centrally Funded Technical Institutions (CFTIs), Institutions/Universities funded/recognized by participating State Governments, as well as an eligibility test for JEE (Advanced), which is for admission to IITs.
Around 200 students were supposed to appear for this exam on 23rd this month in Bahrain.
Parents say they approached the Indian Embassy but were told, "Since they were involved at the last minute, they were unable to assist."
Parents said they are now left worried about their kids and wondering if Bahrain will continue to be an examination centre.
Most of the students and parents said their recommendation is to conduct the missing exam again.
The "best course of action would be for the missing exams to be held again for these students," parents told TDT.
They also urged to ensure that Bahrain will continue to be a centre for such examinations in the future.
According to the Ministry of Education, India, "The JEE (Main) is being conducted in multiple Sessions (February/March/April/May 2021) for admissions in the next academic session."