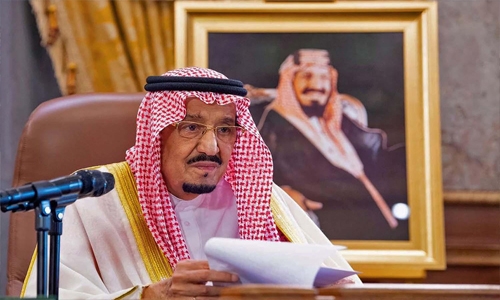 Saudi calls for affordable, 'equitable' vaccine access
TDT | Agencies
The Daily Tribune – www.newsofbahrain.com
Saudi Arabia's King Salman bin Abdulaziz Al Saud yesterday called on world nations to provide "affordable and equitable" access to vaccines and other tools to all to combat the COVID-19 pandemic during his G20 Riyadh Summit opening remarks.
"Although we are optimistic about the progress made in developing vaccines, therapeutics and diagnostics tools for COVID-19, we must work to create the conditions for affordable and equitable access to these tools for all peoples," King Salman, the custodian of the two holy mosques told world leaders.
He said the pandemic dealt "an unprecedented shock" to the world in a short time and that people and economies are still suffering from it.
King Salman assured the Saudi would do its best to "overcome this crisis through international cooperation."
On this note, he urged world economies to continue supporting the global economy and reopen economies and borders to facilitate the mobility of trade and people.
King Salman further stressed the need to support developing countries in a coordinated manner to maintain the development already achieved over the past decades.
This year's G20 summit also aims to build a sustainable future.
King Salman said G20 countries must lead the international community in preserving and conserving the environment.
"We also need to create the conditions for a more sustainable economy," he said stressing the need to combat land degradation and conserve coral reefs and biodiversity to safeguard the planet.
The custodian of the two holy mosques said G20 leaders met for the first twelve years ago to deal with the financial crisis, and "today, we are working together again to face another, deeper global crisis, that has ravaged people and economies."
He expressed confidence that the Riyadh summit will deliver significant and decisive results and will lead to adopting economic and social policies that will restore hope and reassurance to the people of the world.