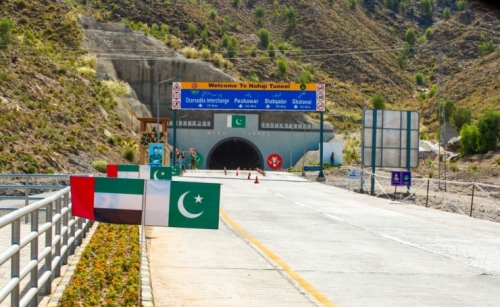 Pakistani PM inaugurates Sheikh Mohamed bin Zayed Road in Pakistan
Islamaba
As a part of UAE's continued support to Pakistan, Shaikh Mohamed bin Zayed Al Nahyan Road, a 42 km road in the Mohmand district of Khyber Pakhtunkhwa was opened today. Prime Minister Imran Khan has inaugurated the it
The project was implemented by the UAE Pakistan Assistance Programme, UAE-PAP, and financed by the Abu Dhabi Fund for Development, at a cost of US$29.12 million – reported Emirates News Agency (WAM)
Following the inauguration, the Pakistani Prime Minister unveiled the memorial plaque and led a tour of patrons and guests on the built road, bridges, tunnels, and water channels. The tour concluded with a memorial photo taken of the work teams and engineers involved in the project who were also honored with commemorative shields.
"I want to express my sincere thanks to the UAE, especially Shaikh Mohamed bin Zayed who sponsored this road on behalf of the UAE Government," Khan said.
Director of the UAE-PAP Abdullah Khalifa Al Ghafli, highlighted the importance of building the road, saying it is one of the largest and most important modern development projects that have been implemented in the Khyber Pakhtunkhwa region.
The road connects nine cities and six villages and will be used by more than 627,000 people. Its width spans 9.3 metres and includes a tunnel and nine intersecting bridges and a drainage system to protect against torrential waters.