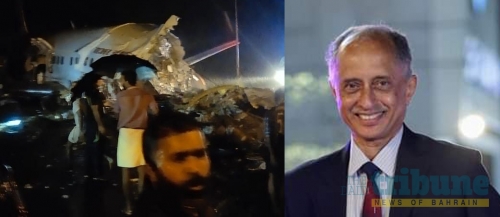 Air India Express plane coming from Dubai overshot the runway at Kozhikode airport in Kerala
Manama
Air India Express aircraft from Dubai to Kozhikode with 191 onboard crashed after overshooting the runway and going into the valley after landing at Karipur Airport. Two passengers and former Indian Air Force (IAF) test pilot Captain DV Sathe are feared dead while as many as 35 passengers are being treated for injuries. There is no update on the health of the co-pilot yet. Fire tenders and ambulances have been rushed to the spot.
The mishap took place at about 7.10 pm and the aircraft broke into two parts. According to initial reports, the pilot of the aircraft- Deepak Vasant Sathe died in the mishap and the condition of the co-pilot is believed to be critical. The Cockpit and the front door of the flight were completely damaged.
All agencies have been instructed by the CMO to participate in the rescue operations. AC Moideen, minster for local bodies has been deputed to coordinate rescue operations. He has already left for Karipur from Thrissur. CM Vijayan has also deputed an IG of police to oversee the operation. Fire and Rescue teams from at least two districts have been rushed to the spot.
Kerala Chief Minister Pinarayi Vijayan said in a tweet, "Have instructed Police and Fire Force to take urgent action in the wake of the plane crash at the Kozhikode International airport (CCJ) in Karipur. Have also directed the officials to make necessary arrangements for rescue and medical support."