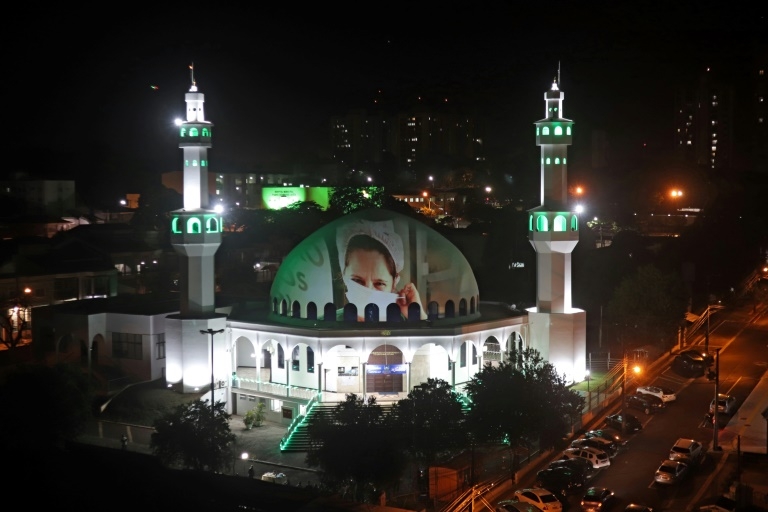 Ramadan begins with unprecedented virus lockdowns
Agencies | Jakarta
Muslims across the world began marking the holy month of Ramadan yesterday under unprecedented coronavirus lockdowns with exception of Oman where Ramadan begins today. The Sultanate of Oman declared April 25 as the first day of the holy month of Ramadan as the main moon-sighting committee there didn't receive any reports of moon sightings on Thursday evening.
Most other countries announced that the holy month started as of Thursday night, including Bahrain, Saudi Arabia, the United Arab Emirates, Kuwait, Egypt, Turkey, Qatar, Tunisia, Lebanon and Iraq. As per a tweet by the Astronomy Centre, the moon was photographed on Thursday at 12.02pm from Jebel Jais in Ras Al Khaimah. The crescent was sighted in Saudi Arabia on Thursday as well.
However, this year, the holy daytime fasting month will be a sombre affair for many across Asia, the Middle East and North Africa. Widespread rules have been imposed banning praying in mosques or meeting relatives and friends for large "iftar" meals at dusk -- a centrepiece of the month-long fast.
The virus has upended life around the planet as nations try to stop the spread of the disease that has so far claimed nearly 190,000 lives, infected close to 2.7 million people and hammered the global economy. In the Saudi holy city of Mecca, the Grand Mosque, usually packed with tens of thousands of pilgrims during Ramadan, was deserted as religious authorities suspended the year-round umrah pilgrimage.
"We are used to seeing the holy mosque crowded with people during the day, night, all the time... I feel pain deep inside," said Ali Mulla, the muezzin who gives the call to prayer at the Grand Mosque. Ramadan spirits have been dampened by movement restrictions in communities from Southeast Asia to the Middle East and Africa, with bans on prayer in mosques and large gatherings of families and friends to break the daily fast -- a centrepiece of the month.
But despite the coronavirus threat, clerics and conservatives in many countries including Bangladesh, Pakistan and Indonesia -- the world's largest Muslim-majority nation -- have pushed back against social distancing rules, refusing to stop gatherings in mosques. Several thousand people attended evening prayers on Thursday at the biggest mosque in the capital of Indonesia's conservative Aceh province, and there were similar scenes at many sites in Pakistan.
"I'm not worried because I'm wearing a face mask and keeping my distance," said Cut Fitrah Riskiah, one of those in attendance at the biggest mosque in Aceh's capital. The World Health Organisation has called for a stop to some Ramadan activities to lower the risk of infections, and authorities in several countries have explicitly warned of the threat from large religious gatherings. Distancing measures and the severe economic impact of the pandemic has also meant many charitable activities during Ramadan, especially food distribution and other donations, have been hit hard.
Salah Jibril, an unemployed Palestinian man who lives with his wife and six children in a cramped two-bedroom apartment in the Gaza Strip, said he was not sure how his family would cope without Ramadan donations. "The markets and mosques are closed. The good people who give us money or aid each Ramadan are facing a tough situation," he said. "This is the hardest Ramadan we have faced. We don't know how we will cope." Mohamad Shukri Mohamad, the top Islamic cleric in the Malaysian state of Kelantan, planned to skip public prayers and family meals -- even if it meant not seeing his six children and 18 grandchildren.
"This is the first time in my life that I've been unable to go the mosque," he said. "But we must accept it and obey the rules of social distancing to protect our lives."
Malaysia has extended a strict lockdown until mid-May with mosques, schools and most businesses closed -- and police checkpoints set up to catch rulebreakers. Even popular Ramadan bazaars, where Muslims buy local delicacies before breaking their fast, have been banned.
In neighbouring Indonesia, fears of a spike in coronavirus cases when millions travel to hometowns and ancestral villages at the end of Ramadan has forced the country of some 260 million to issue a ban on the annual exodus.
The government has also announced a clampdown on all air and sea travel across the 17,000-island archipelago. Jakarta resident Erik Febrian said he was relying on a computer to allow him to keep in touch with his out-of-town parents until he can see them in person at the end of Ramadan. "Thanks to technology I can video-call my parents every day during Ramadan," he said. "And keep an eye on their health."
Picture: Images of health workers are projected onto the roof of the Omar Ibn Al-Khattab mosque in Foz do Iguacu, Brazil