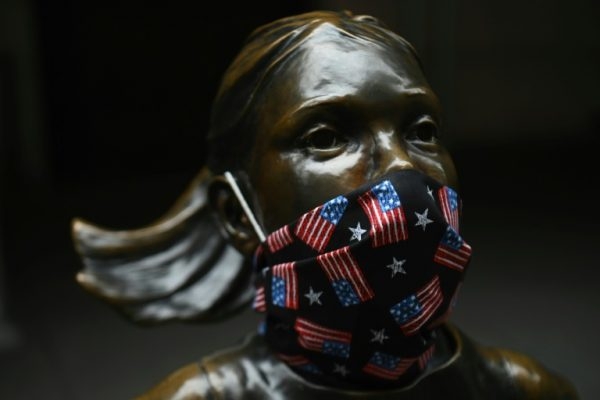 Stocks struggle as antiviral drug hopes fade
London
Stock markets struggled yesterday as hopes of quickly finding a treatment for coronavirus were dashed, analysts said, and more crushing economic data delivered a body blow to confidence. Reports said initial trials of the remdesivir coronavirus drug being developed by Gilead Sciences had flopped. Investors were "reacting badly" to the information, Oanda analyst Craig Erlam. "This was a ray of hope earlier this week and already we're learning the pitfalls of getting too excited about these cures at the early stages of testing," Erlam said. Key European markets were all lower, while Wall Street trod water at the New York opening bell.
'Crumbs of comfort'
Michael Hewson, at CMC Markets UK, said markets would probably be "swinging around" in coming weeks on the success or failure of antiviral and vaccine trials "as investors look for crumbs of comfort". European equities were knocked also by news that EU leaders stood divided over the size of a financial rescue package to stimulate the bloc's economy left battered by the pandemic. "They seem to have agreed on the idea of a recovery fund while leaving the details for a future date," Erlam said. The United States has approved nearly half a billion dollars in new stimulus but European leaders were split on their own measures as the world sought to salvage economies hammered by the coronavirus pandemic.
'Catastrophic'
Economic data released Friday added to the bleak outlook. German business confidence plummeted to a record low in April as firms fret over COVID-19 fallout, the closely-watched Ifo survey said, describing morale as "catastrophic". The institute's monthly business climate index tumbled to 74.3 points, down from March's 85.9 points. Britain's retail sales by volume meanwhile slumped by a record 5.1 percent last month as the country's lockdown shut clothes and other stores, offsetting surges in food and alcohol purchases and online buying, official data showed. JP Morgan Asset Management strategist Hannah Anderson warned that while some countries were moving to ease lockdowns and the virus was growing at a slower rate, there were dangers ahead. "It is important to not conflate medical and economic data," she said in a note.
More pain
"Obviously a deceleration in infection rates is a positive development for the economy, but progress in combating this awful disease is not the same as returning the economy to the place it was" in late 2019. "Investors need to understand that the risks associated with lifting public health measures too early could further exacerbate market pain," she added. While stock markets struggled, oil was enjoying another day of gains, albeit far more modest than the 20-percent surge for WTI on Thursday triggered by a new flare-up between Washington and Tehran. Iran warned the US of a "decisive response" after President Donald Trump said he ordered the US Navy to destroy Iranian boats that harass American ships in the Gulf. Gains in crude prices were unlikely to be sustained, observers warned, as storage facilities are near to bursting with demand almost non-existent -- a situation that sent the May contract for WTI to minus $40 this week. "There is little in the way of fundamental developments to support the move higher, although given the amount of weakness recently, we were due a relief rally," said Warren Patterson and Wenyu Yao at ING.
Massive economic stimulus
The economic devastation wreaked by lockdowns indoors is huge, with the world facing its worst downturn since the Great Depression. US lawmakers covered their faces with masks and voted in small groups to approve a $483 billion stimulus plan, on top of a $2.2 trillion package already enacted. The money will back small businesses on the brink of bankruptcy and hard-pressed hospitals as the world's biggest economy reels, with more than 26 million people losing their jobs since the pandemic hit. In Europe -- the hardest-hit continent -- leaders haggled by video conference over their own package that could top one trillion euros, as the European Central Bank chief warned of the risk of "acting too little, too late". The 27-nation European Union agreed to ask the bloc's executive arm to come up with a rescue plan by May 6, sources told AFP. The crucial economic discussions come as parts of Europe slowly loosen restrictions after progress on reducing the number of new infections. But experts have warned of a possible second wave, and authorities are ramping up their capacity to deal with it in Germany -- where curbs on public life have been eased recently.
Source : AFP