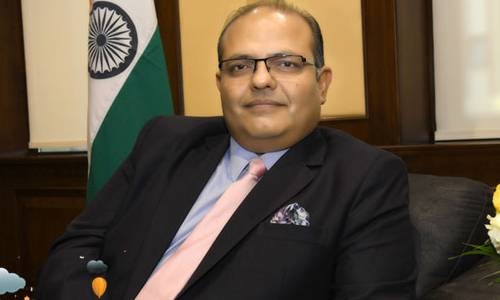 Long Live India-Bahrain Friendship!
By PIYUSH SRIVASTAVA, Ambassador of India to Bahrain
I extend my warm greetings and best wishes to His Majesty King Hamad bin Isa Al Khalifa, His Royal Highness Prince Salman bin Hamad Al Khalifa, the Government and the people of Bahrain on the occasion of the 51st National Day of the Kingdom of Bahrain.
Bahrain's tremendous strides in economic development and its vision and practice of harmony and peaceful coexistence is there for all to see. Bahrain's successful handling of the Covid pandemic and taking care of its citizens and expatriates alike in these difficult times, has set an example for the global community.
The vibrant Indian community in Bahrain, which has contributed in the journey of development in the Kingdom, is witness to the same. Our bilateral relations have continued on the upward trajectory through regular interactions between our Leadership and visits at high political and official levels.
Hon'ble Prime Minister of India, Shri Narendra Modi and His Royal Highness Prince Salman bin Hamad Al Khalifa, Crown Prince and Prime Minister of Bahrain held telephonic conversation in February this year.
The 5th meeting of Foreign Office Consultations led by Undersecretary, Political Affairs, Ministry of Foreign Affairs, Bahrain and Secretary, Ministry of External Affairs, India, held in New Delhi in March 2022, reviewed the entire gamut of bilateral relations.
High level defence and security delegations from both sides took part in each other's flagship events including Defence Expo in India and Bahrain International Air Show and Manama Dialogue in Bahrain.
There is a long list of milestones we have achieved this year. The most important among them being Bahrain joining the International Solar Alliance, India joining the Combined Maritime Forces as an Associate Partner, and our two countries achieving the highest ever bilateral trade of over USD 1.65 billion.
As we conclude our celebrations of Golden Jubilee of establishment of diplomatic relations, I must say that these celebrations have strengthened our bonds of friendship particularly among the youth of our two countries.
As we slowly inch towards the New Year, I see our relationship set to intensify and expand including in the emerging, contemporary and hi-tech areas of renewable energy, education, space, security, food security, health & pharmaceuticals, IT, telecommunications, cybersecurity and infrastructure.
Let me once again join the Indian community in thanking the Leadership and the Government of Bahrain for their exceptional care of Indian community, and in conveying best wishes for the good health and well-being of His Majesty the King, His Royal Highness the Crown Prince and Prime Minister, and for the continued progress and prosperity of the friendly people of Bahrain, as the Kingdom of Bahrain celebrates its 51st National Day.
Long Live India-Bahrain Friendship!