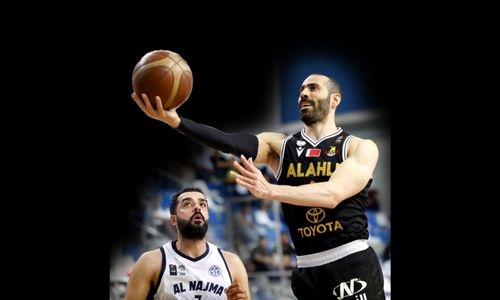 Ahli rout Najma to rise to top
TDT | Manama
The Daily Tribune – www.newsofbahrain.com
Al Ahli routed Al Najma 108-76 last night as the regular season of the 2022/2023 Zain Bahrain Basketball League came to a close at Zain Basketball Arena in Um Al Hassam.
The result earned Ahli first place on the league standings at the end of the preliminaries, although it was a non-bearing fixture as both teams had already secured their places in the round-of-six play-offs.
Ahli and Najma join fellow-title hopefuls Muharraq, defending champions Manama, Al Ettihad and Bahrain Club as those set to contest for this year's league crown.
Missing out on a place in the top-tier were Al Hala and Nuwaidrat, while rounding out the final standings after 20 games for each club were Sitra, Isa Town and Samaheej.
The top six move on to the playoffs to compete for four berths in the Golden Square semi-finals, while the bottom five will battle it out for this year's Silver League title.
The schedule of both categories has yet to be released by the Bahrain Basketball Association.
In Ahli's win last night, they went up 32-19 after the opening period and then extended their advantage to 59-41 at the half.
They never wavered from there, ending the game with their biggest lead of 32 points.
Ahli improved to a 16-4 winloss record, tied with Muharraq atop the standings but holding a superior scoring differential.
Najma dropped to a 13-7 mark for fifth on the table.
Bahrain national team guards Maitham Jameel and Hesham Sarhan combined for 59 points for Ahli, with Jameel pouring in 32 including a red-hot eight three-pointers and Sarhan scoring 27 with six triples.
Wayne Chism added 18 and 15 rebounds in the win, while Ali Aqeel had eight points and eight assists.
Nick Ward scored 22 to pace Najma in defeat, while Mohammed Hussain contributed 18.
Meanwhile, in yesterday's other game, Isa town defeated Sitra 100-60 led by Mohammed Nabeel's 29-point, 20-rebound effort.
Isa Town took a commanding 33-7 lead at the end of the first quarter and never looked back, stretching their advantage to as many as the final 40-point winning margin.
Talal Qaheri added 20 points while Hussain Mahdi had an impressive triple-double with 17 points, 12 rebounds and 10 assists for Isa Town.
Ali Eid was the top scorer for Sitra in the loss with 23 markers, while Ebrahim Murad was their only other player in double figures with 10.
Isa Town claimed only their third win to wrap up their regular season campaign, while Sitra were dealt their 16th loss.