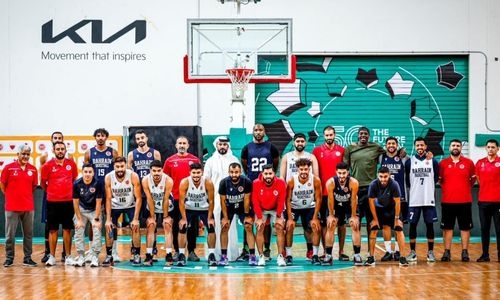 Bahrain gears up for FIBA WC qualifiers
TDT | Manama
The Daily Tribune – www.newsofbahrain.com
Bahrain's senior men's national basketball team have begun their preparations for the latest window of Asian qualification for the FIBA Basketball World Cup 2023.
The Bahrainis are set to host continental powerhouses Japan and China next month.
Those games will mark their ninth and 10th in Group F of this stage of qualifiers.
The nationals are currently ranked last in their division with a 2-6 win-loss record—with their two wins having been carried over from the previous round.
Australia are the group leaders with an undefeated 8-0 mark, followed by China (6-2), Kazakhstan (5-3), Iran (5-3), Japan (3-5) and Bahrain.
Group E of the Asian qualifiers features New Zealand (6-0), Lebanon (5-1), the Philippines (3-3), Jordan (3-3), Saudi Arabia (1-5) and India (0-6).
The nationals are coming off a pair of losses in their previous two games against Australia and China.
Their upcoming game against Japan is scheduled for 11 November at the Khalifa Sports City Arena in Isa Town. They then take on China three nights later on 14 November.
The Bahrainis then travel half-way across the globe for their last two qualifiers next year. They play Australia on 23 February and then face off with Japan on 26 February in a pair of away fixtures.
At the end of this qualifying stage, the top three teams from each group—along with hosts Japan and the Philippines—qualify for next year's World Cup.
Bahrain have kicked off training under Tunisian coach Rasem Al Marzouki.
Some of the players currently preparing with the national team include big men Wayne Chism, Mohammed Ameer and Ali Shukrallah; along with forwards Ali Jaber, Ahmed Bin Danea and Ali Hussain; and guards Mustafa Hussain, Ahmed Hassan Aldurazi, Maitham Jameel, Ahmed Salman and veteran court general Hussain Shaker.
Bahrain Basketball Association national teams committee chairman Mohammed Al Ajmi visited the team's practice and met with the players.
Bahrain are looking to bounce back from their previous two World Cup qualifying losses and live up to their tag as the biggest risers on the latest edition of the FIBA World Ranking, where they went up a massive 18 places to 86th overall.
The Bahrainis were previously ranked 104th but after improving to 116.5 points have cracked into the top 100 globally.
The nationals are also 16th amongst 43 teams in FIBA Asia, ahead of other top continental teams such as Qatar (89th), Iraq (90th), Palestine (91st) and the UAE, to name a few.
Amongst GCC nations, only Saudi Arabia are ranked higher in 73rd.