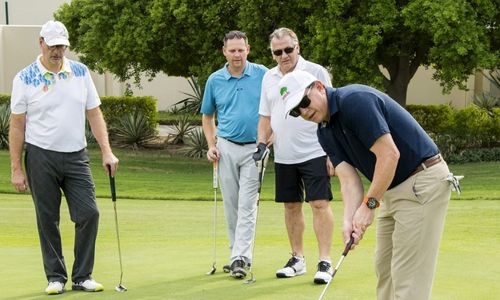 AMH Island Classic charity golf tournament set for tee-off
TDT | Manama
The Daily Tribune – www.newsofbahrain.com
The 2022 AMH Island Classic charity golf tournament is all set to tee off today at the private golf course of His Majesty the King in Saffriya.
The three-day high-profile golfing event, being held under the patronage of His Majesty King Hamad bin Isa Al Khalifa, aims to raise funds for the community outreach programme of the hospital.
The first flight will tee off at 7.30am on the first day of golfing although the official opening ceremony will take place at 12noon and a second round of golfers will tee off at 12.30pm.
The tournament follows the Florida Format and it will also feature several side contests, adding to the fun and excitement of the event.
AMH CEO/CMO Dr George Cheriyan said: "Golfers look forward to playing at the Island Classic every year as it is the only opportunity to experience this one-of-a-kind golf course.
"This year, the excitement will be very high as the golfers will be coming back to play on this course after a gap of two years.
We are honored by the tremendous support from the community of Bahrain.
"We are extremely grateful to His Majesty King Hamad bin Isa Al Khalifa for once again giving us the unique opportunity to conduct the Island Classic at his private golf course.
"We are also grateful to each and every one of our sponsors who have contributed towards this event."
The event will culminate with a gala dinner evening on 30 October, to be held at The Diplomat Radissonblu Hotel and Spa where sponsoring companies will be honoured.