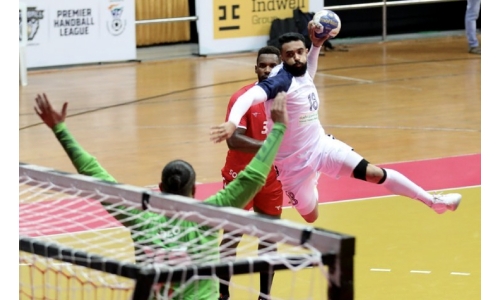 Najma claim dramatic, last-gasp win over Kuwait
TDT | Manama
The Daily Tribune – www.newsofbahrain.com
Mohammed Habib Naser scored just moments before the final buzzer to lift Bahrain champions Al Najma to a dramatic 30-29 victory over Al Kuwait of Kuwait yesterday in the 24th Asian Men's Club League Handball Championship, being held in Hyderabad, India. After a see-saw second half in which the Bahrainis lost the lead midway through, they managed to fight back in the closing stages and edge ahead, led by the superb play of Ali Eid. The game was then deadlocked at 29-apiece with 30 seconds to go with Najma in possession.
Naser was about to attack at the seven-metre line but then lost control of the ball. Teammate Ahmed Fadhul was able to recover possession and his shot from the right-wing bounced off the crossbar and went out of bounds, with only seconds remaining on the clock.
Najma were able to get one last play in and Naser, without hesitation, fired in the winner at the nine-metre line from the left-wing. Najma's players and team staff erupted in celebration as the last-gasp result was the Bahrainis' second win in as many tries in Group B of the competition's preliminary round. Najma moved to the top of the divisional standings and is one step closer to securing their berth in the semi-finals.
They play one more match tomorrow against Al Wakrah of Qatar to determine their final place in their group. The top two from each division march through to the final four.
Group A consists of Al Arabi of Qatar, Al Qadsia of Kuwait, Al Noor of Saudi Arabia and T-Sports Club of hosts India. Eid finished with 12 goals to lead Najma's attack against Kuwait.
Naser added five, while Mohammed Mirza scored four. Mahdi Saad chipped in with three goals, both Hasan Al Fardan and Alix Kevynn Nyokas had two, and Fadhul along with Oliver Nyokas contributed a goal apiece.
Fall behind
Najma led 15-14 at the half in last night's match but midway through the final 30-minute period fell behind 22-25.
The Bahrainis gradually fought their way back and a Saad goal tied it at 25-all. The Kuwaitis were able to reply but then Eid put Najma on his broad shoulders, scoring three of their next four goals to help give Bahrain and recently crowned Gulf champions a slim 29-28 advantage with just two minutes remaining.
Saad had a chance to put the game away after Kuwait turned the ball over and he had a one-on-one with the opposing goalkeeper on a fastbreak. But he misfired on his shot, which went over the crossbar to keep the Kuwaitis in it. They eventually tied on their next possession, but that set the stage for Naser's last-second heroics.