Bahrain spikers remain undefeated
TDT | Manama
The Daily Tribune – www.newsofbahrain.com
Bahrain's senior men's national volleyball team powered to their third successive victory in the volleyball competition at the third GCC Games in Kuwait yesterday.
The nationals ousted their counterparts from Oman in four sets in the lone match of the day. Due to the poor weather conditions caused by a severe sandstorm throughout the day, the event's higher organizing committee decided to postpone a number of matches yesterday in various sports.
Some games went on as scheduled. One was the Bahrainis' contest against Oman in men's volleyball, which they won 3-1 (25- 21, 23-25, 25-23, 31-29). It was a tightly contested affair between the two sides, with the match running for nearly two-and-a-half hours.
Bahrain's Naser Anan and Mohamed Abdulla were the team's best scorers. Anan finished with 16 points, 15 of which came in attack, while Abdulla contributed 15 markers, all on attack. Ali Ebrahim was also a key player, finishing with 12 points to his name.
Bahrainis Ali Alsairafi and Abbas Al Khabbaz both did their parts at the net, each finishing the game with three blocks. After the game, the national team was visited by Bahrain Olympic Committee vice-president and the Kingdom's delegation head at the GCC Games, His Highness Shaikh Isa bin Ali bin Khalifa Al Khalifa, and a number of other officials, who congratulated them on the fine result.
HH Shaikh Isa met with national team coach Issanaye Ramires, team officials and the players. Yesterday's win followed Bahrain's back-to-back victories against Saudi Arabia and the UAE.
The nationals have just one game remaining on Thursday.
It will be against hosts Kuwait, scheduled for a 7pm start, and it will help decide the final standings in the men's volleyball tournament.
Narrow miss
Meanwhile, in women's cycling yesterday, Bahrain's Fatema Husain finished a solid sixth in the women's individual road race, narrowly missing out on a podium place. She completed the event's distance in a time of one hour 25 minutes and 17 seconds, which was a part of the leading peloton.
Shaikha Rashed led an all-UAE podium in the event. Amongst Bahrain's other riders, Roaya Alsaati came 20th more than five minutes behind, Aysha Buqais was 22nd and Wafa Aljoozi 23rd. Mariam Almoayyed and May Alhaji did not finish.
The Bahrainis were also ranked fifth amongst the teams, with the UAE winning gold, Saudi Arabia silver and Kuwait bronze. Elsewhere yesterday, Bahrainis Yusuf Qaed and Hasan Abdulreda lost their respective Round of 16 matches in the men's singles in tennis.
Qaed bowed to Saudi's Saud Alhogbani 1-6, 2-6 while Abdulreda lost to Kuwait's Bader Antar 3-6, 0-6.
The Bahraini tandem of Youssef Ashraf and Jaber Abdula'al also succumbed to their opposition yesterday, falling to the Saudi pair of Omar Ahmad and Abdullah Alfaraj 3-6, 0-6. Finally yesterday, Bahrain lost both their matches in the men's FIFA HD competition in Esports.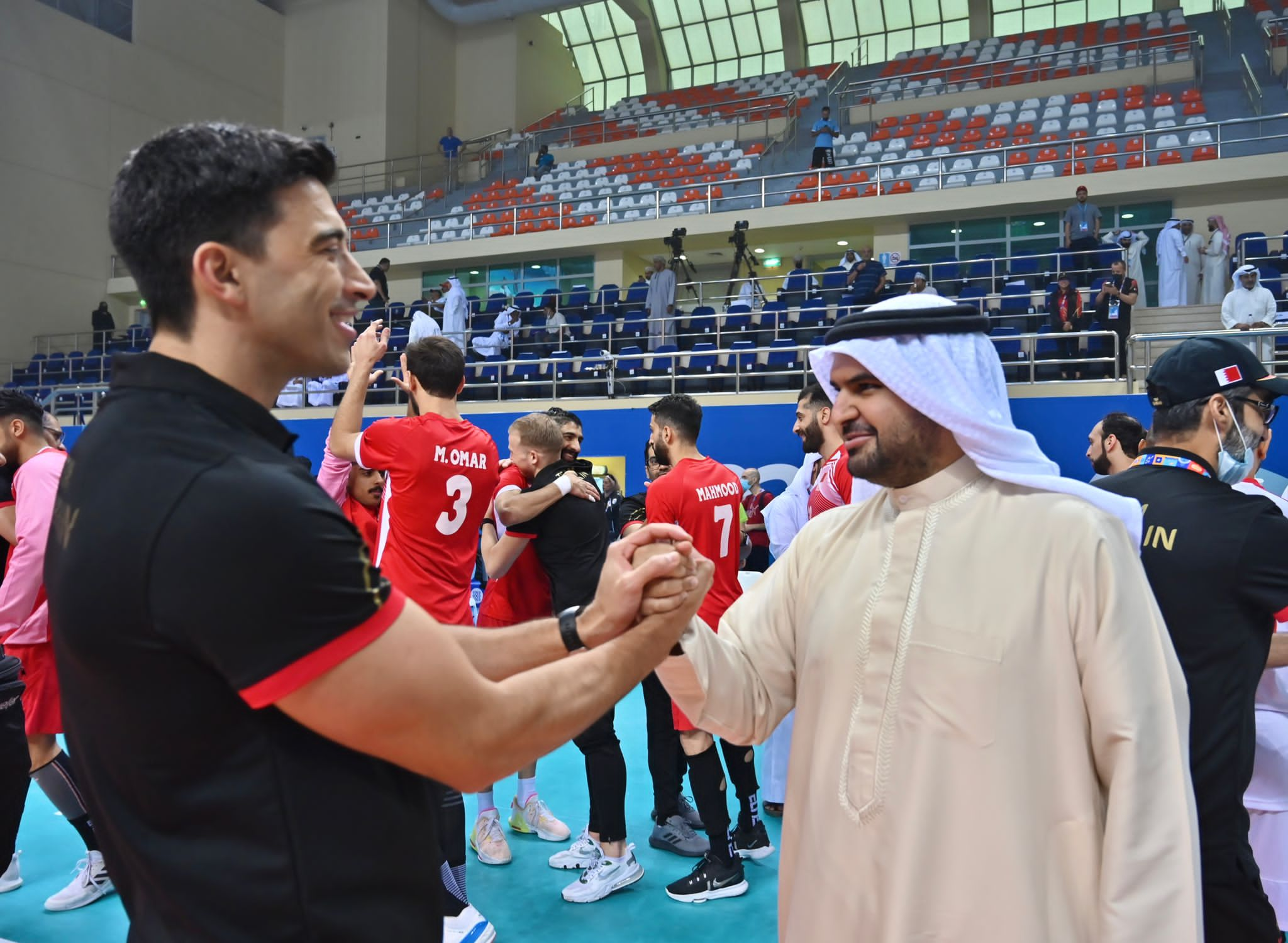 HH Shaikh Isa bin Ali bin Khalifa Al Khalifa congratulates Bahrain volleyball head coach Issanaye Ramires after their win
Bahrain's Jaber Abdula'al in action in men's tennis