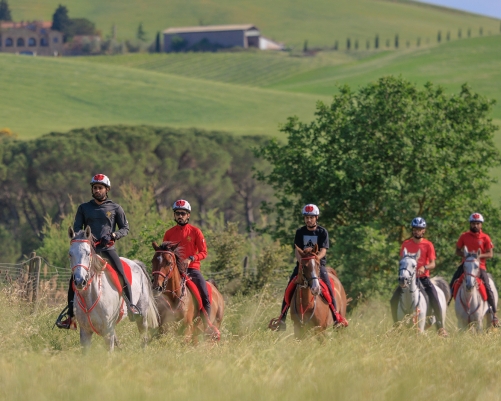 Royal Endurance Team gears up for Montalcino International Endurance Championship
TDT | Manama
The Daily Tribune – www.newsofbahrain.com
Under the leadership of His Highness Shaikh Nasser bin Hamad Al Khalifa, Representative of HM the King for Humanitarian Works and Youth Affairs and Captain of the Team, the Royal Endurance Team will participate on Friday in the veterinary examination of the Montalcino International Endurance Championship which will feature a broad pool of riders from Bahrain, Italy, Argentina and Spain.
The process will take place under the supervision of an accredited arbitration committee by the International Equestrian Federation. It will be followed by the riders' weigh-in process and distribution of the assigned numbers, in addition to the technical meeting that precedes the tournament.
It's worth noting that the races will kick off on Saturday, and the Royal Endurance Team will be led by HH Shaikh Nasser bin Hamad Al Khalifa in the 160 km race, while the Team's jockeys will also participate in the 120 km race for the public.
They will include the young jockey HH Shaikh Isa bin Faisal bin Rashid Al Khalifa, Isa Al Anzi, Mohammed Al Bastaki, Nasser Al Qahtani, Salman Isa, Youssef Al Jubouri, Khalifa Jamal and Khalifa Sabt.
The team will also compete in the 120 km race for juniors with Abdullah Al Ruwaie, while his compatriot Abdulrahman Khalid will participate in the 100 km race for juniors.
Jaffar Mirza, the trainer of the Royal Endurance Team, stressed that the leadership of HH Shaikh Nasser bin Hamad Al Khalifa for the Team is an advantage, as His Highness is considered an inspiring and role model for the jockeys in light of the skill, experience and high capabilities that His Highness possesses in the endurance races and his great role in the development of this prestigious sport.
He further explained that the follow-up and interest of HH Shaikh Nasser bin Hamad Al Khalifa for the Team contributed to the full readiness to participate in this tournament, which will witness strong competition owing to the participation of distinguished jockeys.