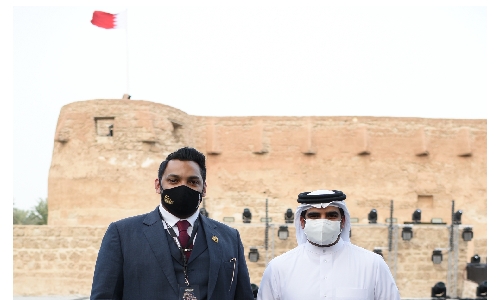 BRAVE CF congratulates IMMAF on achieving WADA signatory status
TDT | Manama
The Daily Tribune – www.newsofbahrain.com
BRAVE Combat Federation, the premier Mixed Martial Arts promotion founded by His Highness Shaikh Khalid bin Hamad Al Khalifa in the Kingdom of Bahrain, congratulates the International Mixed Martial Arts Federation (IMMAF) for achieving the groundbreaking signatory status with the World Antidoping Agency (WADA).
BRAVE CF and the IMMAF have been working together fostering the development of the sport since day one, in a partnership that has included the biggest world championships in the history of amateur MMA and three consecutive BRAVE International Combat Weeks in the Kingdom of Bahrain.
"On behalf of BRAVE Combat Federation, the BRAVE Nation, and the entire Mixed Martial Arts community, I'd like to congratulate the IMMAF for this huge step for MMA as a sport.
The future is bright for our sport and we're excited to be part of this legacy", said BRAVE CF President Mohammed Shahid.
"I'd like to congratulate and extend my greetings to Mr Kerrith Brown and Densign White, President and CEO of the IMMAF," Mr Shahid continued.
"I would also like to congratulation His Highness Shaikh Khaled bin Hamad Al Khalifa, His Highness Shaikh Salman bin Mohammed Al Khalifa [Chairman of the Bahrain Combat Sports Council], and Mohammed Ali Qambar [President of the Bahrain Mixed Martial Arts Federation] for their vision, support, and efforts which were fundamental for the development of this new era of the sport."
The adherence of IMMAF and the signature of the WADA Code included an assessment by independent experts of its level of good governance, a review of WADA's application, and the completion of an extensive Code Compliance Questionnaire to demonstrate the quality of the anti-doping program.
By doing so, the IMMAF, and the grassroots level of the sport of Mixed Martial Arts, are now joined by 600 other sports organizations in the "Clean Sports Community", as it's known.