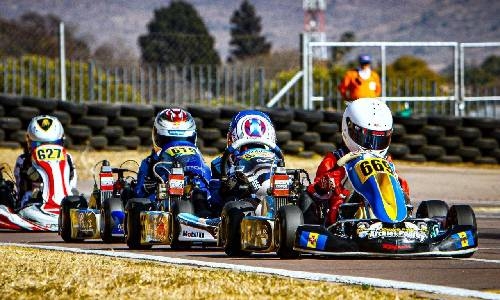 Rotax MAX Pre-Finals set at BIKC
TDT | Manama
The Daily Tribune – www.newsofbahrain.com
Bahrain International Karting Circuit (BIKC) is all set to host the Pre-Finals of the Rotax MAX Challenge Grand Finals 2021 today as the global karting spotlight stays centred on the world-class karting facility in Sakhir.
On Wednesday and yesterday, the more than 400 participating karters from 75 countries took to BIKC's 1.414-kilometre CIKFIA track for this week's qualifying heats, from where they came away with points.
Their points haul determined their grid positions for their respective Pre-Finals, which will set the stage for the Finals tomorrow.
All are welcome to attend the last two days of the event, free of charge.
However, due to limited capacity, entry will be on a first-come, first-served basis.
In the Junior Max category, Tomass Stolcermanis finished in first place overall after their three qualifying heats with zero points.
Kai Rillaerts was second with five points, while Jayden Thien came third with eight points.
Bahrain's Tye Mejia was classified 62nd with 84 points, while Abdulqader Qasem came 65th with 86 points.
In the Mini Max category, Borys Lyzen came first with zero points.
Arata Endo was second with four points, while Mateja Radenkovic came third with six points.
Bahrain's Luca Kane Houghton came 31st with 53 points while Gracie Rose Grantham was 46th with 69 points.
Charles Goddard ranked 63rd with 87 points, Khaled Najjar 64th with 88 points and Shanthosh Kumar 70th with 98 points.
In the Micro class, Nikita Ljumbimov finished atop the points standings with three markers.
Zdenek Babicek followed with four points, while Dragos Avasilcutei was third with 10 points.
Martijn Van Leeuwon was first in the DD2 category with two points.
Antoine Barbaroux came second with eight points, while Michael Rosina finished third with nine points. Amongst the DD2 Master karters, Morgan Riche was the top man with zero points.
PierLuc Ouellette finished in second place with four points, while Pual Louveau was third with six points. Mohammed Mattar came 18th in class for Bahrain with 39 points.
In the E20 category, Oscar Pellemele was in first place with two points, with Theo Kekati in second with three points. Malte Ebdrup came third on eight points.
The Senior MAX classification was not issued last night.
According to BIKC officials, this is due to an on-track incident that needs to be investigated by the stewards.
For more information on RMCGF 2021, visit bahraingp.com, follow the circuit's social media channels or call the BIC Hotline on +973-17450000.
The RMCGF 2021 marks the first time in the history of the event that it is being held in Bahrain.
Karters have qualified from individual events held around the world.
BIKC was designed to the highest international standards and is capable of hosting world championship races under the CIK-FIA.
The circuit made motorsport history in 2012 when it became the first karting track anywhere across the globe to host a world championship-level event at night thanks to the high-specification floodlight system.
The challenging track features 14 turns, which will allow seeing thrilling action on the track when the best Rotax drivers will fight for the podium to end 2021.