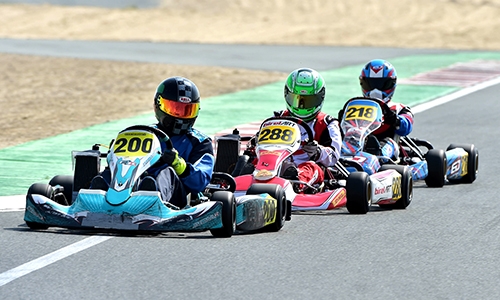 BIC welcomes world's best Rotax karters for Grand Finals 2021
TDT | Manama
The Daily Tribune – www.newsofbahrain.com
Bahrain International Circuit (BIC) is all set to host one of the biggest karting events in the world from this Saturday to next in Sakhir.
The Rotax MAX Challenge Grand Finals (RMCGF) 2021 will be hitting the tarmac at BIC's history-making karting facility, Bahrain International Karting Circuit (BIKC), with close to 400 karters from all across the globe taking part.
This is the first time the RMCGF is being held in the Kingdom, and the stage is set for a spectacular event.
BIC Chief Executive Shaikh Salman bin Isa Al Khalifa commented: "We are honoured to be hosting this prestigious meeting as the Rotax MAX Challenge Grand Finals is one of the biggest karting events on the global stage.
"We are proud that our worldclass karting facility is helping to grow young drivers and this event further highlights our commitment to enhancing motorsport in the region, particularly at the grassroots level.
"The event brings together hundreds of karters, their crews and fans into the Kingdom for an exciting and extraordinary week of racing.
"We wish everyone a safe, successful and memorable Grand Finals!"
All roads have led to Bahrain this year, with karters gaining invitations to race this week having excelled in their individual country-based Rotax MAX qualifying competitions from more than 75 nations.
The participants will be battling it out in seven different categories, including the Micro MAX, the Mini MAX, the Junior MAX, the Senior MAX, the DD2, DD2 Masters and the EKART Senior.
The week's action will be held along BIKC's 1.414-kilometre CIK track, which has been the setting for world championship-level races in the past.
Scrutineering and pre-race formalities are scheduled to take place on the opening two days, with the raffle of karts set for Sunday morning.
Monday's start to racing will feature the Non-Qualifying Practices, which continue until yesterday, which is when the Qualifying Heats will take place until Thursday.
Next Friday will then see the Pre-Finals be held, setting the stage for the Finals for next Saturday.
Spectators wishing to witness the very best in global karting can attend between 13 and 18 December, with entry free of charge.
Due to limited capacity at the karting circuit, entry will be on a first-come, first-served basis.
Amongst the competing karters will be 10 drivers representing the Kingdom of Bahrain, all of whom are champions in the national Rotax MAX series.
Set to compete in the Micro MAX category is Shaikh Rashid bin Salman Al Khalifa; while Gracie Rose Grantham, Luca Kane Houghton, Charles Goddard and Khaled Najar will all be racing in the Mini MAX class.
Abdulqader Qasem and Tye Mejia will be competing in the Junior MAX category; while flying the Kingdom's flag amongst the Senior MAX karters are Fahad Almuqla and Lewis Smith; and Shaikh Salman bin Rashid Al Khalifa in the DD2 Masters class.