Bahrain crash out of FIFA Arab Cup
TDT | Manama
The Daily Tribune – www.newsofbahrain.com
Bahrain was sent crashing out of the FIFA Arab Cup 2021 last night following a disappointing 0-3 loss to Oman in their final Group A fixture of the preliminary round, played at Ahmad bin Ali Stadium.
Al Mandhar Al Alawi, Arshad Al Alawi and Khalid Al Hajri were all on target for the Omanis, who claimed their first win of the tournament.
Al Mandhar scored in the first half while Arshad and Al Hajri both found the net in the second.
The result officially eliminated the Bahrainis from the competition with their second loss, and it put Oman through to the quarter-final stage.
The Omanis sealed their berth after hosts Qatar crushed Iraq 3-0 in last night's other Group A fixture.
The Qataris had already secured their berth in the next phase heading into yesterday's games.
They finished as Group A winners with a maximum of nine points following their third win.
Oman was second on the table with four points, Iraq finished with two in third and Bahrain was dead last with just one point from three matches.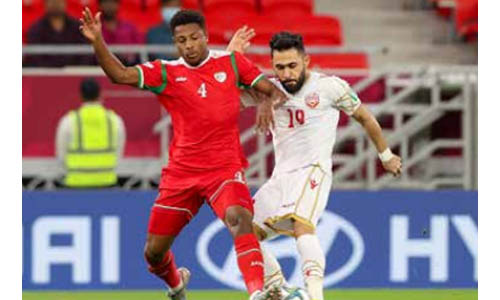 The Bahrainis wrapped up their Arab Cup campaign with zero goals scored.
Bahrain kicked off yesterday's affair with a first 11 that included Sayed Mohammed Jaafar in goal; Sayed Mahdi Baqer, Waleed Al Hayam, Sayed Dhiya Saeed and Sayed Redha Isa in defence; Mohammed Hardan Abbas Alasfoor and Komail Alaswad in midfield; and Ali Madan, Mohammed Marhoon and Mohammed Al Rumaihi in front.
Al Mandhar opened the scoring for the Omanis in the 41st minute, finding the net with a header in the face of the goal off an assist by Fawaz Abdullah.
That was enough to give their team the lead heading into the break.
In the second half, the nationals were expected to make a desperate push and fight their way back into the contest, but it never came and the Omanis were able to deflate their spirits with two goals within nine minutes.
In the 50th minute, Bahrain carelessly gave away possession and then poor defending allowed Amjad Al Harthi all the time he needed to send in a cross from the right-wing and find Arshad Al Alawi, who made no mistake with his uncontested header from close range.
Then, Khalid Alhajri made it 3-0 with a brilliant left-footed strike inside the box following a fine through-pass from Arshad.
Alhajri was originally adjudged to be offside by the linesman, but after a VAR check, the goal stood.