Bahrain to go all out for victory against Iraq
TDT | Manama
The Daily Tribune – www.newsofbahrain.com
Head coach Helio Sousa says that Bahrain's national football team will go all out to claim a victory today in their match against Iraq in Group A of the FIFA Arab Cup 2021 in Doha. The game is scheduled for an early 1pm kick-off, Bahrain time, and it will be played at Al Thumama Stadium at the Qatari capital.
The nationals will be hoping to bounce back from their narrow opening-night loss to tournament hosts Qatar, and will need a positive result to stay in contention for a place in the top two of their group in order to advance to the competition's knockout stage.
"We are two strong teams with great players who can make a good game," Sousa said yesterday in his pre-match Press conference. "We must perform at a high level, as we did the last game, but we must put in the final result what we showed during the game; it must show in the result too, and we will try to do that."
Today's clash will be the fifth time in two years that Bahrain and Iraq are facing off with one another at the highest level of international competition. They previously met in the West Asian Football Federation Championship Final in 2019, which Bahrain won 1-0 to claim the tournament title.
They then also met in the semi-finals of the 24th Gulf Cup later that same year, when Bahrain won 5-3 in a penalty shootout after the score remained deadlocked at 2-2 after extra-time.
Then, the two teams also faced off in Group C of the second round of joint-qualifying for the FIFA World Cup 2022 and AFC Asian Cup 2023. The two teams drew both their meetings—first in Bahrain 1-1, and then in Iraq 0-0.
"It is always a pleasure to play against Iraq," Sousa said. "It's a game that will help our players continue developing, and they will be better players tomorrow. "The moment is different than the games before.
Of course, they want to win against us, just as we want to win against them. "We must be stronger than them in the end. It's about winning. They have fantastic players, a strong team, and it's going to be a very hard game again.
But we will see it as one more moment to keep growing up and develop our team. "Against anyone, anywhere, we will try to win the game. We will do all that we can do, and we will try to make it happen all the time." Sousa praised the national team's players for the strong fighting spirit they have shown in recent times, especially in their first game of the Arab Cup against Qatar, despite the loss.
"We already showed in the first game we deserve to be here, and we must show in the next game that we deserve to be in the next stage of the competition," he said. "We need to make all to win the next game—that is the only objective we have, the only way to keep thinking. "What we can promise is to be best prepared.
We need the quality, the competence, and to do all we can to try to win this next game and to prepare the best we can. "We believe that we can deliver. We can put our quality in the game; the delivery is there and the will to win is there."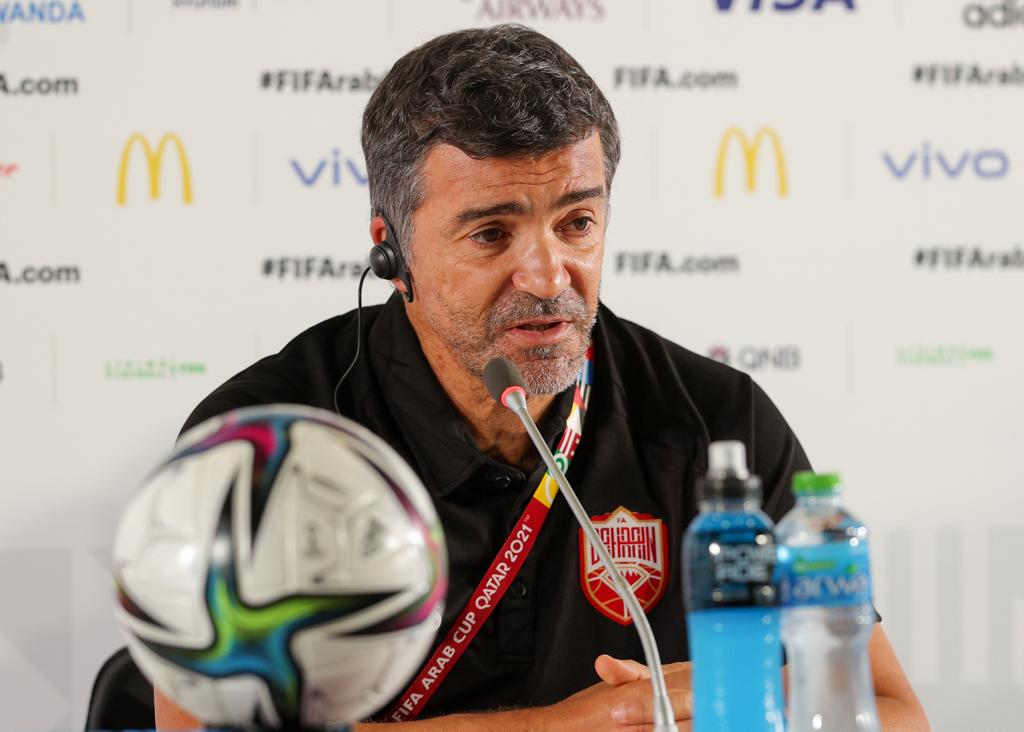 Bahrain head coach Helio Sousa speaks during yesterday's Press conference in Doha