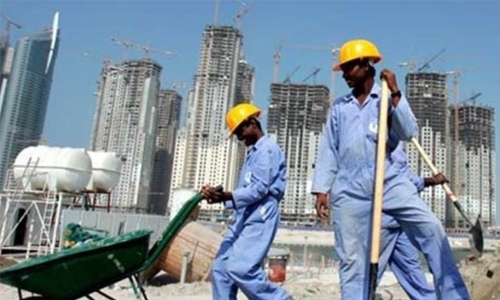 Bahrain Football Association condemns abuse of workers' rights in Qatar
TDT | Manama
The Daily Tribune – www.newsofbahrain.com
Bahrain Football Association (BFA) denounced the abuse and exploitation of expatriates in different sectors in Qatar, particularly in the construction sites of the 2022 World Cup stadiums.
Recent international reports and statements issued by European federations slammed the worsening conditions of workers, condemning the State of Qatar for violating legitimate workers' rights.
In a new report issued by Amnesty International about 5 days ago, Amnesty International said that the daily reality for many foreign workers is still harsh.
A BFA statement stressed the necessity to improve the conditions of toiling workers who suffer in their daily lives, seeing their wages reduced and basic labour rights violated.
It called upon human rights organisations to intervene and put the onus on the State of Qatar in order to protect workers who are in a dangerous environment that lacks the simplest means of securing their lives.
Citing recurrent media reports exposing the gross violations, the Bahrain Football Association (BFA) voiced deep concerns over the alarming death toll among workers in facilities, infrastructure and stadiums in the State of Qatar,
Recent international reports said that thousands of workers have lost their lives, which confirms that migrant workers are being deprived of their most basic human rights and forced to pay a heavy price.
"Reports and figures confirm that the steps taken by the State of Qatar are insufficient to protect the rights of workers and improve their conditions", said the BFA statement, urging protection for migrant workers from the abuses and exploitation of Qatari companies.