"Horse of a lifetime" Lord Glitters delivers fairy-tale result in Bahrain
TDT | Manama
The Daily Tribune – www.newsofbahrain.com
Shouldering a three-pound penalty for winning a Group 1 in Dubai, the eight-year-old grey Lord Glitters produced a remarkable performance to claim a thrilling renewal of the 2021 Group Three Bahrain International Trophy for trainer David O'Meara, owners Geoff and Sandra Turnbull and young jockey Jason Watson.
In attendance were His Majesty the King's Humanitarian Work and Youth Affairs rep[1]resentative and Bahrain Royal Equestrian and Endurance Federation (BREEF) honorary president His Highness Shaikh Nasser bin Hamad Al Khalifa; Supreme Council for Youth and Sports (SCYS) first deputy chairman, General Sports Authority chairman and Bahrain Olympic Committee president His Highness Shaikh Khalid bin Hamad Al Khalifa; REHC High Committee chairman His Highness Shaikh Isa bin Salman bin Hamad Al Khalifa; and other high-ranking officials, including Jockey Club of Saudi Arabia chairman Prince Bandar bin Khalid Al Faisal. With his usual jockey Danny Tudhope injured, Jason Watson stepped in for the ride and judged the pace to perfection.
With a frenetic early gallop set by Pogo, Watson and Lord Glitters sat at the rear of the 13-strong field before picking off his younger rivals one by one. It looked as though it would be yet more big race international success for Charlie Appleby and Godolphin, as Barney Roy got the better of Magny Cours in the final two furlongs, but the oldest horse in the race knuckled down and accelerated past the pair to win by ó a length, with Magny Cours a neck back in third. An ecstatic David O'Meara paid tribute to "a horse of a lifetime" after the race.
He said: "There are no words! He is a fantastic horse; I might have been quoted in the past saying that he is a horse of a lifetime and I think he is for us. He has proved it once again and we don't have loads of horses like him, so he is very special to us. His last two runs weren't ideal, but the races hadn't work out for him. His run in August in the Strensall Stakes gave us confidence that he would be competitive in this race. He did well in Dubai last year and that is the plan again if he comes out of this race well.
The Saudi Cup meeting is an option now so we will bring him home and see how he is and start planning for that." O'Meara was full of praise for his jockey after the race. On Watson, he said: "Jason is a hell of a talent. He has given him a fantastic ride; it is the first time he has ridden the horse in a race so he couldn't have had a better start!" Watson himself was pinching himself after the race, he said: "I'm delighted.
We went hard early on, and the main job was to get him to relax, and he relaxed very well for me. At halfway, they slowed right up to give the horses who were making the pace a breather, but that also enabled us to have a breather.
Turning in, I could see a couple of horses starting to come under pressure including Zakouski. The best horse to follow in my opinion was Barney Roy, so I tracked him through and once we found clear daylight, we just mowed them down. He kept going right to the line. He's such a genuine horse, and I'm just really, really happy."
Watson is no stranger to big race international races and has won Group One races in Italy and Germany, but he admitted to feeling the pressure of riding a horse like Lord Glitters. He continued: "It's truly special. I'm just very fortunate that I've had a lot of success when I've gone abroad.
I've won quite a few prestigious races now, but every time you do, you just have to pinch yourself. There was a big amount of pressure on me coming out here to ride a horse like Lord Glitters, who is such a legend of the sport and so well supported back home.
I'm just pleased that he pulled it out the bag for me today." After being elevated to Group Three status for the first time, it was the two Group One and Royal Ascot winning horses that filled the first two positions which delighted the Rashid Equestrian and Horseracing Club's Executive Director Shaikh Salman bin Rashed Alkhalifa.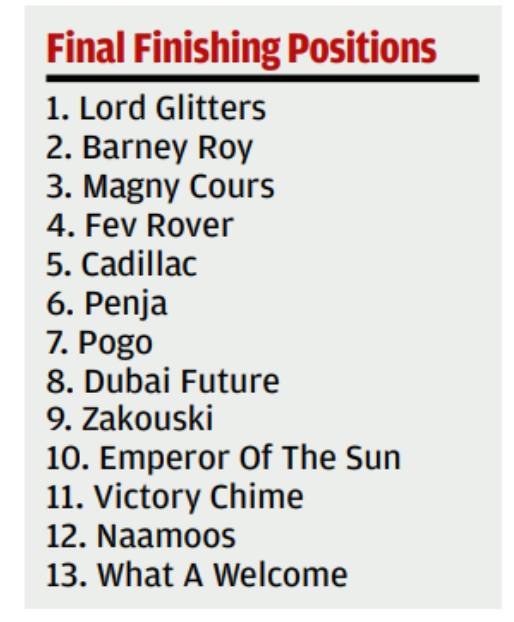 He said: "To have had two Group One winners fighting out the finish was very special. On paper, it looked a very strong renewal for a Group Three and so it proved. Lord Glitters and Barney Roy are very well-known horses who have won Group One races in multiple countries. It was a thrilling race to watch, and we are very excited to see how the race can progress in future years.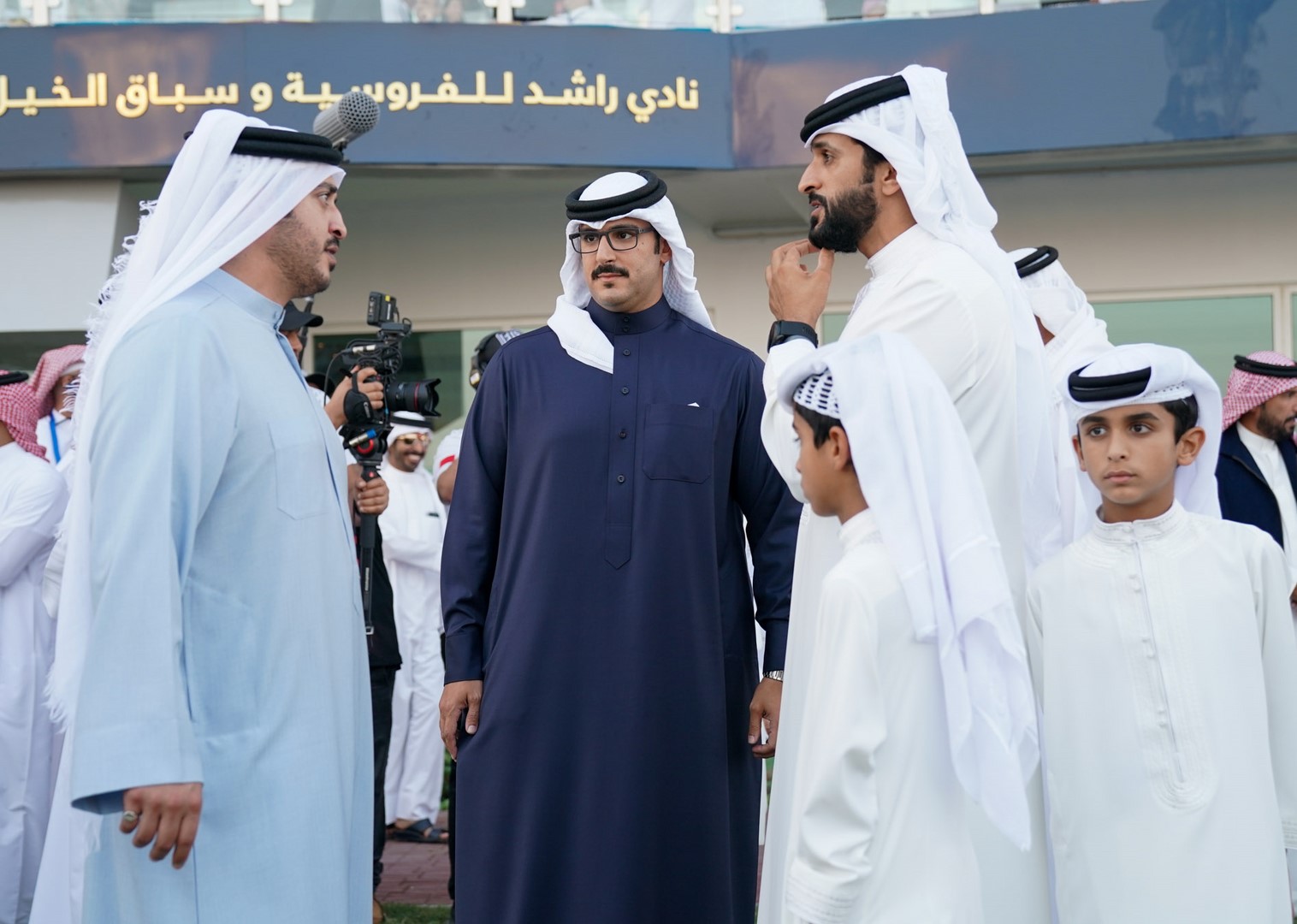 HH Shaikh Nasser bin Hamad Al Khalifa, HH Shaikh Khalid bin Hamad Al Khalifa and HH Shaikh Isa bin Salman bin Hamad Al Khalifa at the event.
Officials at the races yesterday at REHC