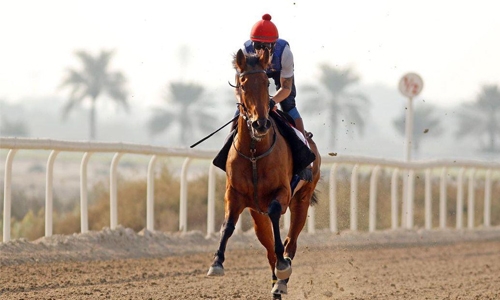 Bahrain International Trophy to be shown live in 130 countries
TDT | Manama
The Daily Tribune – www.newsofbahrain.com
The global horseracing spotlight will be firmly on the Bahrain International Trophy today with the Kingdom's showpiece race attracting unprecedented television interest.
Racecourse Media Group (RMG) and HBA Media, two of the leading horse racing media rights companies, working with Rashid Equestrian and Horseracing Club (REHC) in Bahrain, have secured widespread global coverage of the event which will be available to view in 130 countries.
Broadcasters taking live coverage include Fox Sports in the US, ESPN in Latin America and the Caribbean, and SuperSport in Africa.
In addition to ESPN, the Caribbean will be served by SportsMax and 17 countries in the Middle East and North Africa will have access to the race through the Dubai Racing Channel, Yas TV and Bahrain TV, while Saudi TV will show a recording, as will the Green Channel and Tellytrack to its Japanese and South African audiences.
Live coverage will be taken by RMG's TV channel, Racing TV, plus Sky Sports Racing, in the UK and Ireland, while ITV, the UK's biggest commercial broadcaster, will feature the race in its Saturday programming.
Other broadcasters taking live coverage in Europe include NENT (the Nordics), Match (Russia), SilkNet (Georgia) and Equidia (France).
RMG is also delighted to be working with Timeline TV in co-producing the live one-hour world feed programme.
REHC executive director Shaikh Salman bin Rashid Al Khalifa said: "For some of the world's leading broadcasters, such as Fox Sports, ESPN and SuperSport, to devote valuable airtime to the Bahrain International Trophy, in only its third year, is testament to the rapid and unrelenting growth of Bahrain racing on the international sporting calendar.
We are delighted with the interest."
RMG communications and international TV distribution director Seb Vance said: "It is a great honour to be working with the Rashid Equestrian and Horseracing Club again.
Both RMG and HBA couldn't be happier with the take-up from international broadcasters.
"The race is bursting with quality, and we look forward to conveying all the colour and excitement from Sakhir Racecourse, in a special one-hour world feed programme, which RMG is co-producing with Timeline TV."
A runner-by-runner guide to the Bahrain International Trophy is available on the Racing TV website.