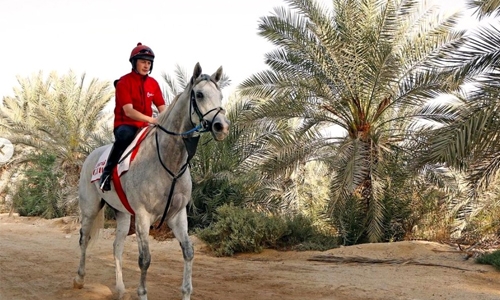 Horseracing spectacle set at Rashid Equestrian and Horseracing Club
TDT | Manama
The Daily Tribune – www.newsofbahrain.com
The third edition of the £500,000 Group Three Bahrain International Trophy takes place today at Rashid Equestrian and Horseracing Club (REHC) in Sakhir and the participants are looking forward to a highly competitive race ahead.
The day's feature event is scheduled for 4 pm and it will be held over 2,000 metres/10 furlongs on turf.
It has attracted a world-class field of 14 horses along with some of the biggest owners, trainers and jockeys in the sport.
Fawzi Nass, the trainer of last year's Bahrain International Trophy winner Simsir, is back and looking to triumph once more.
He will have three opportunities to try and do so with his trio of top contenders, including Emperor of the Sun, owned by Victorious and to be saddled by last year's winning jockey Lee Newman; Naamoos, also owned by Victorious and to be ridden by David Egan; and Qaader, owned by Alrifga and to be jockeyed by Adrie De Vries.
He says they are ready for the challenge ahead.
"[Emperor of the Sun] is a galloping type," Nass was quoted as saying about the four-year-old horse, who has only recently travelled to Bahrain from O'Donoghue Racing in Ireland.
"Lee rode him for the first time [a few days ago], and his feedback was good.
The horse feels and moves well."
Victorious-Nass-Newman were the triumvirate behind Simsir's success last year, and they are hoping that the same winning formula translates to even more success in 2021.
"[Lee] is going to hope to do the same as last year," Nass said.
"He knows the tactics.
He's a master at it." As for Naamoos and Qaader, two horses formerly trained by Johnston Racing in England and both of whom arrived in Bahrain around six weeks ago, Nass said:
"Naamoos has shown a lot of promise this season with Mark Johnston.
He had enough time to adapt to the track and the weather and everything that comes with it.
I am happy with him.
"Qaader is a nice horse.
I like him.
He's not a big horse but he's light on his feet and has a big stride in action.
"It's a very strong field this year.
The preparations are good and he's adapted to the track."
Naamoos jockey David Egan from Ireland, who has raced several times at REHC and taken several victories here, is hopeful of making the most of his experience in Bahrain and his strong relationship with Victorious owner His Highness Shaikh Nasser bin Hamad Al Khalifa.
"To win the Bahrain international Trophy would be fantastic and a real honour to bring it home for HH Shaikh Nasser and Fawzi Nass who have been very good to me," Egan was quoted as saying.
Egan and the other competitors are upbeat about competing amongst a very high-quality group.
"To have such a high class, high standard of race is fantastic and hopefully, with a few more years to come, it can only improve—Group Two and maybe sometime in the future we'll have an international Group One here in Bahrain, which is the plan and it will be fantastic," he said.
Jockey Kieran Shoemark, to be saddling Charlie Hills-trained five-year-old Pogo, commented:
"This race seems to be getting more competitive each year.
Seems to attract better and better horses.
It's going to be a tough task, over 10 furlongs here."
Matthew Ennis, travelling head lad for trainer David O'Meara who will be contending with eight-year-old Lord Glitters and jockey Jason Watson, said of his contender:
"We're back in the sun, back abroad.
He's a very enthusiastic horse day to day, loves his work." Lord Glitters competed in last year's event and finished an impressive fifth, but hopes to go one step further this time around.
"Hopefully he'll run a good race like he did last year," said Ennis.
"Hopefully all goes to plan this year."
There will be another six local races on the cards tomorrow at REHC, with the day's action scheduled to begin from 1.10 pm.
The six other races will have on offer cups from the event's sponsors Batelco, Bapco and Bahrain EDB.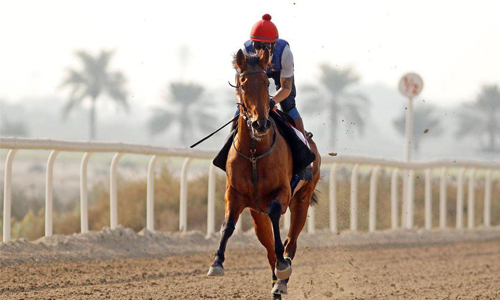 Today's other races
1.10pm: Race 1 – Bahrain Economic Development Board Cup BD3,000 prize; Local Bred race type; 1,200m B race distance
1.35pm: Race 2 – Bahrain Petroleum Company Cup BD3,000; Local Bred; 1,400m
2pm: Race 3 – Batelco Cup BD3,000; Local Bred; 1,800m
2.25pm: Race 4 – Batelco Cup BD4,000; Local Bred, 1,200m S
2.50pm: Race 5 – Bahrain Petroleum Company Cup BD7,000; Imported; 1,000m
3.15pm: Race 6 – Bahrain Economic Development Board Cup BD5,000; Imported; 1,600m
Bahrain International Trophy starting gates (Horse: owner, trainer, jockey)
1 Cadillac (IRE): Alpha Racing 2020, Mrs John Harrington, Shane Foley
2 What A Welcome (GB): Ahmed Al Isa, Abduljaleel Al Mallah, Phil Dennis
3 Barney Roy (GB): Godolphin, Charlie Appleby, James Doyle
4 Fev Rover (IRE): Nick Bradley Racing 43 and Partner, Richard Fahey, Paddy Mathers
5 Victory Chime (IRE): A Nevin, Ralph Becket, Hector Crouch
6 Zakouski (GB): Godolphin, Charlie Appleby, William Buick
7 Emperor of the Sun (IRE): Victorious, Fawzi Nass, Lee Newman
8 Penja (FR): Jurgen Sartori, Andreas Suborics, Cristian Demuro
9 Naamoos (FR): Victorious and Fawzi Nass, Fawzi Nass, David Egan
10 Magny Cours (USA): Godolphin SNC, Andre Fabre, Mickael Barzalona
11 Pogo (IRE): Gary and Linnet Woodward, Charles Hills, Kieran Shoemark
12 Lord Glitters (FR): Geoff and Sandra Turnbull, David O'Meara, Jason Watson
13 Dubai Future (GB): Godolphin, Saeed bin Suroor, Frankie Dettori
14 Qaader (IRE): Alrifga, Fawzi Nass, Adrie De Vries