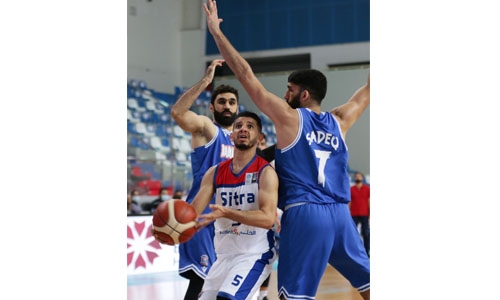 Manama make easy work of Sitra
TDT | Manama
The Daily Tribune – www.newsofbahrain.com
Manama made a rousing start to the 2021/2022 Zain Bahrain Basketball League last night with a 98-61 victory over Sitra at Zain Arena in Um Al Hassam. Manama were the aggressors from the opening tip and dominated the contest.
They never trailed and enjoyed the biggest lead of 40 twice in the fourth quarter, when the win was already virtually sealed. It was a positive result for Manama after losing in the Zain Super Cup last week to reigning back-to-back champions Al Ahli.
They were once again taken to the hardwood last night without American professional Devin Ebanks, who reportedly had tested positive for COVID-19 prior to the Super Cup.
It mattered little, however, in Manama's win against Sitra as others stepped up. Mohammed Ameer filled the void in the paint and scored 27 points to go with 10 rebounds in just 25 minutes of play. Hassan Nowrooz came off the bench to contribute 15 points, while skipper Mohammed Hussain added 14.
Both Nowrooz and Hussain buried three three-pointers in the contest. Ten of Manama's 12 players, all of whom played in the game, made it onto the score sheet. Pacing Sitra was Ali Eid with 17 points, while Husain Safar added 16. US import Trayvon Reed had 10 points and eight rebounds.
Meanwhile, in last night's other game, Mohammed Buallay scored on a driving lay-up with 4.2 seconds remaining to help lift Al Najma to a hard-earned 68-66 victory over Bahrain Club. Najma led for most of the contest and had a comfortable 56-45 lead heading into the final canto.
But Bahrain Club roared back in the fourth and was able to tie the proceedings at 59-apiece on an Ali Abbas lay-up with just under four minutes to go. CJ Giles was able to break the deadlock with an emphatic two-handed slam dunk that turned into a three-point play.
Najma went ahead by three and should have pulled away, but Bahrain Club was able to stay in it and Senegalese professional Ibrahima Thomas tied it once more at 66-all with 22 seconds left. That set the stage for Buallay's end-game heroics to seal the Najma win.
Giles finished with a monster effort of 35 points and 25 rebounds while Buallay had 10 points. Thomas paced Bahrain Club with 25 points in the loss. League action continues tonight with just one game on the cards, set to be played between Muharraq and Al Ettihad, which is scheduled for a 7 pm start.