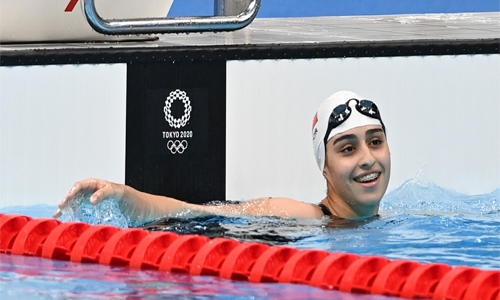 Noor impresses with new personal best
TDT | Manama
The Daily Tribune – www.newsofbahrain.com
Bahraini swimmer Noor Yusuf Taha clocked a new personal best in the Women's 50m Freestyle yesterday as she made a successful appearance at the Tokyo Olympics. The 15-year-old, who is the Kingdom's youngest competitor at the Games, posted a finishing mark of 28.87 seconds in her race, which was the fourth of 11 heats.
Noor was classified fifth out of the eight in her heat and had a reaction time of 0.71s. She beat her old personal best of 29.42s in the distance. Judith Meauri of Papua New Guinea was the race's winner in 27.56s as Aleka Persaud of Guyana came second in 27.76s.
Angelika Ouedraogo of Burkina Faso was third in 28.38s, while Mya de Freitas from St Vincent and the Grenadines finished narrowly ahead of Noor in 28.57s.
None of the swimmers in Noor's heat advanced to the semi-finals. There were a total of 83 entrants competing over 11 heats in the Women's 50m Freestyle, and only 16 went through.
Emma McKeon of Australia was the top qualifier in a new Olympic record of 24.02s, while Femke Heemskerk from the Netherlands was the last to book a place in the next round with a 24.77s time. Noor's participation wrapped up Bahrain's campaign in swimming in Tokyo. Earlier, teammate Abdulla Isa was unlucky in the Men's 100m Butterfly, where he was disqualified in his heat.
This year's Games marked the sixth straight Olympics where young Bahraini swimmers competed, and seventh overall. At the previous Olympiad in Rio de Janeiro in 2016, the Kingdom was represented in the pool by Farhan Saleh, aged 19 at that time, and Fatema Almahmeed, who was aged 17.
In 2012 in London, Bahrainis Khalid Alibaba (15 at the time) and Sara Al Flaij (17) took part; in 2008 in Beijing, Bahrain was represented by Omar Jasim (17 at the time) and Sameera Al Bitar (18); in 2004 in Athens, Hesham Shehab (16 at the time) and Sameera (14) participated; and in 2000 in Sydney, Dawood Jassim (15 at the time) and Fatema Hameed Gerashi (12) were the Kingdom's Olympians. Fatema was the youngest competitor of any event and any nationality at the Sydney Games.
Bahrain's first appearance in Olympic swimming was in 1984 in Los Angeles, when Hamad Bader and Esa Fadel competed.