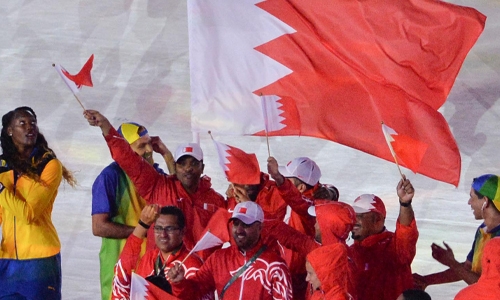 Bahrain's Tokyo Olympics delegation to be 68-strong
TDT | Manama
The Daily Tribune – www.newsofbahrain.com
A 68-member Bahrain delegation will be flying the Kingdom's flag later this month at the Tokyo Olympic Games. This was confirmed yesterday by an official from the Bahrain Olympic Committee (BOC). Bahrain is set to compete in five sports, including athletics, handball, swimming, shooting and boxing.
The head of the delegation has yet to be announced by the BOC. The Olympics are less than 10 days away and Bahrain's Olympians will get right into action the very next day following the opening ceremony on July 23.
Bahrain have 17 athletes who have received the entry standards for their respective events in track and field. The handball team, meanwhile, qualified for the Olympics by winning the gold medal at the 2019 Asian Qualification Tournament and will be sending a 16-player squad.
Swimmers Abdulla Isa and Noor Yusuf Taha were selected by the Bahrain Swimming Association after Bahrain received an invitation from the International Swimming Federation to send two top-ranked swimmers of each gender to compete in their respective individual events.
In shooting, Bahraini Maryam Hassani was entered after getting the allocation quota from the International Shooting Sport Federation. Finally, boxer Danis Latypov topped the list of eligible boxers from Asia and Oceania in the men's super heavyweight division to secure a place at the Games. Bahrain have won three Olympic medals in the past, including two gold and one silver.
The gold medals were claimed by Maryam Yusuf Jamal at the London Olympics in 2012 for the Women's 1,5000m and Ruth Jebet at the Rio Olympics in 2016 for the Women's Marathon. That same year, Eunice Kirwa claimed the Women's Marathon silver medal.