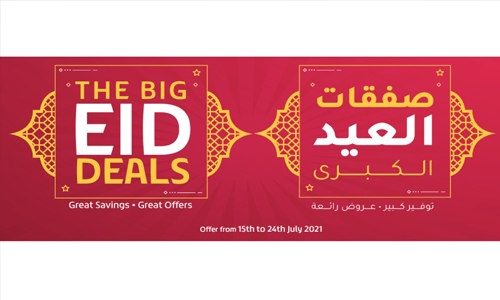 LuLu deals make Eid Festive shopping rewarding for Bahrain shoppers
TDT | Manama
The Daily Tribune – www.newsofbahrain.com
Families in Bahrain are preparing for the grand Eid Al Adha festival next week and LuLu Hypermarket has unveiled a trolley full of super festive deals to help them do that.
The LuLu 'Big Eid Deals' promotion will run from July 15 to 25 and cover everything from chocolate treats, the choicest cuts of meat and the latest wardrobe updates, accessories and perfumes.
With gifting also playing a major role in celebrations, there will be great deals on electronics, I.T., mobiles and home accessories as well.
Biryani Festival
Finally, what is a festival without a table of delicacies? LuLu will be organising a Biryani Festival and special promotion of fresh fruits to celebrate the occasion. The festival will run till July 24, 2021. With LuLu ramping up its online shopping offers, these deals are also available for the convenience of online shoppers.
Whatsapp delivery, pick up
The Hypermarket has made it even easier for customers to select their favourite brands & take advantage of the Eid Deals with Lulu's Whatsapp delivery and pick up service.
(Lulu Hypermarket Dana: 36560775, 36560765 / Lulu Hypermarket Riffa: 36560508,36560509/ Lulu Hypermarket Hidd: 36560568,36560569/ Lulu Hypermarket Ramli: 36560860, 36560865/ Lulu Hypermarket Juffair: 36560603,36560606 / Lulu Hypermarket Galleria: 36560445,36560455/ Lulu Hyper market Sar: 36560965,36560995 / Lulu Hyper market Muharraq: 36560955,36560960) While doing gift shopping, there are other equally attractive options too - the Lulu SHOPPINGIFT multi-value gift card come thoughtfully packaged to suit different occasions, such as Eid, birthdays, holidays & Anniversaries, The card is valid for 12 months from the date of purchase and can be used multiple times in several transactions until the total value of the card has been consumed.