Repeat winners emerge in karting sprints
TDT | Manama
The Daily Tribune – www.newsofbahrain.com
The quartet of Fahad Alkhaled, Fahad Almuqla, Shaikh Rashid bin Salman Al Khalifa and Luca Houghton all emerged triumphant for the second consecutive round in the 2021 Bahrain Rotax Max Challenge (BRMC), held as part of this year's Bahrain Karting Sprint Championship (BKSC) at Bahrain International Circuit (BIC) in Sakhir.
The action was held last weekend at BIC's world-class karting facility, Bahrain International Karting Circuit, with many of the Kingdom's top karters in the fray.
Alkhaled was the victor in the BRMC's Senior Max class while Almuqla won the Junior Max category.
Shaikh Rashid clinched first place amongst the Micro Max runners and Houghton did the same in the Mini Max field.
Racing took place along BIKC's 1.414-kilometre CIK-FIA track.
The second meeting of the season was run with strict health protection measures in place, in line with government regulations and guidance.
Fahad Alkhaled put in an impressive performance in the meeting, topping the classification in all three Senior Max sessions.
He first captured pole position in Qualifying Practice with the best lap of 55.586 seconds, before winning the 11-lap Pre-Final by 0.608s in front of his closest competitor Lewis Smith.
In the 15-lap final, Alkhaled stormed to the chequered flag from pole, never giving up the lead en route to clocking a total winning time of 13 minutes 44.312 seconds.
Smith followed as the runner-up 2.622s behind while Najashi Rashdan took the final podium step 6.531s back.
Abdulrahman Alahmed, Yasser Alshammari, Yasmin Almadani and Shaikha Haya bint Duaij Al Khalifa rounded out the Senior Max's final classification.
Fahad Almuqla was also as dominant in the Junior Max class, taking pole with a best lap of 58.704s in Qualifying before winning the 11-lap Pre-Final ahead of Abdulqader Qasem.
Almuqla then claimed an outright victory in the Final after completing 15 laps in 14:07.300, while Qasem overcame a tough challenge from Sari Alzubi to finish 13.231s behind Almuqla as the runner-up with Alzubi 17.201s behind.
In the Mini Max, Shanthosh Kumar beat out Luca Houghton to pole by 0.504s in Qualifying but Houghton fought back to take the win in the Pre-Final, with Kumar 0.826s behind.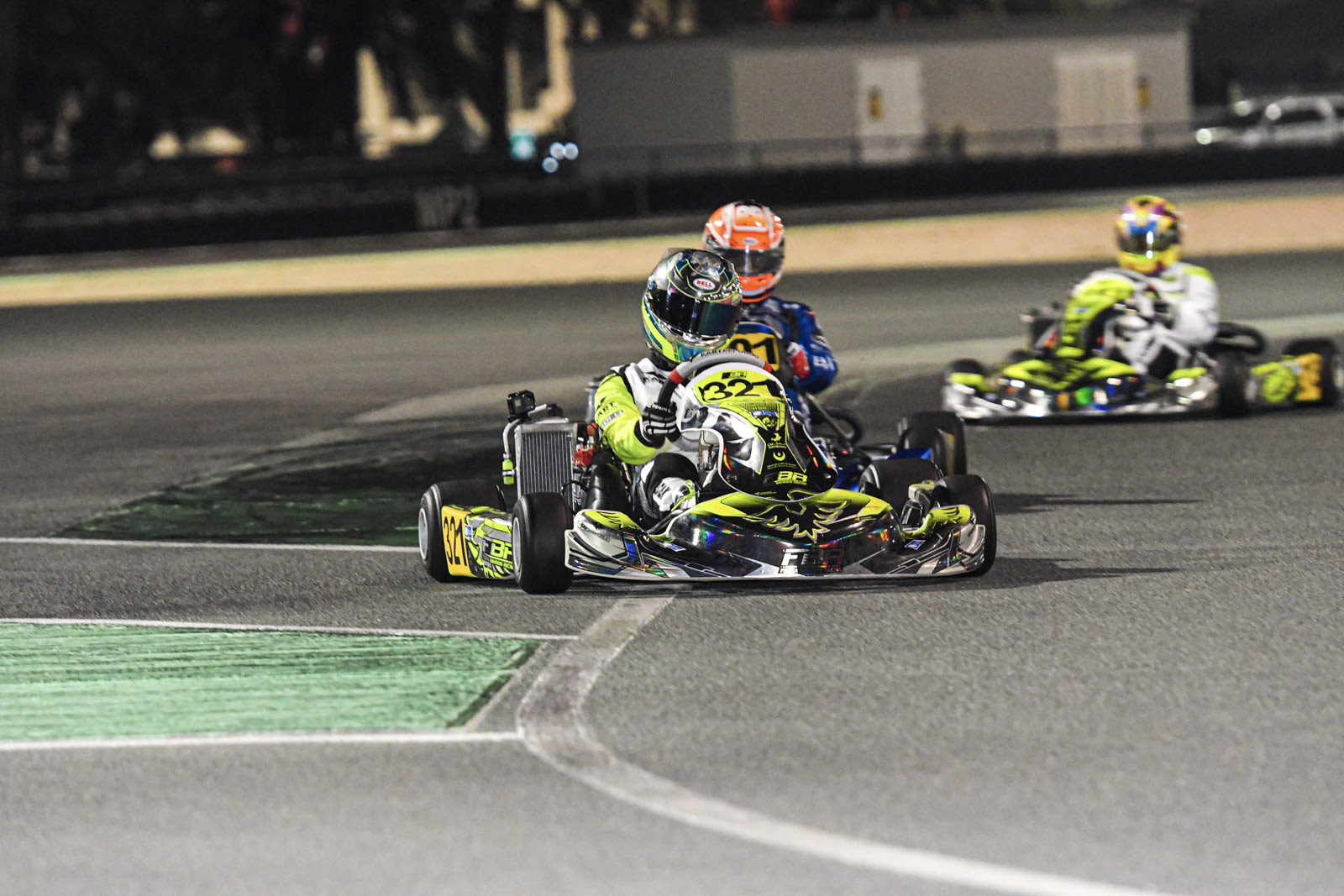 Houghton rode his momentum into the nine-lap Final, which he won from pole in 8:51.652.
Gracie Grantham was able to finish as the runner-up after overtaking Kumar on lap six.
She finished classified 4.673s behind Houghton, while Kumar followed 4.928s back.
Mohammed Alhasan, Vedant Menon and Tye Mejia completed the Mini Max classification.
In the Micro Max category, Shaikh Rashid bin Salman Al Khalifa clinched pole with a best lap of 1:04.867 but was pipped to first place by 0.130s in the Pre-Final by Charlie Goddard.
But in the final, Shaikh Rashid was able to power to the win after taking over as the leader in class on lap five, passing Khaled Alnajjar.
Shaikh Rashid eventually completed the nine-lap sprint in 9:27.096, while Alnajjar followed 0.859s back.
Shaikh Ahmed bin Saqer Al Khalifa was third 27.910s off the winning mark.
Following the season's second round, Alkhaled continued to lead the Senior Max championship standings with 70 points, while Smith and Alshammar follow tied on 45 points.
BirelArt leads the Senior Max Entracts' standings with 102 points, followed by Forza Bahrain Racing with 96 and Praga ME with 90.
In the Junior Max class, Almuqla leads with 70 points, followed by Qasem with 53 and Alzubi with 44. BirelArt is the Entrant leaders with 167 points, followed by Praga ME with 29.
Houghton tops the Mini Max category with 70 points, with Gracie and Kumar tied in second and third on 53 points.
BirelArt is also the leaders amongst the Entrants with 115 points, followed by Praga ME with 69 points and Forza with 53.
Shaikh Rashid leads the Micro Max category with 69 points, with Alnajjar second on 56 points and Goddard third on 35 Praga are the leaders amongst the Entrants with 160 while BirelArt is second on 23.