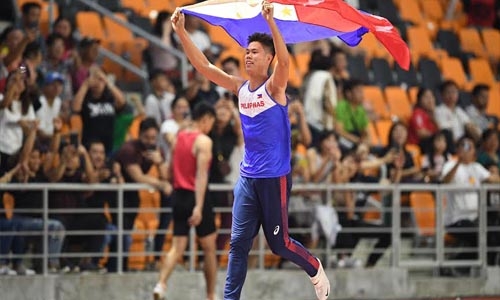 It's Olympic gold or nothing for Obiena
TDT | Manila
The Daily Tribune – www.newsofbahrain.com
It's no less than an Olympic gold medal will satisfy Filipino ace pole vaulter Ernest John Obiena when he competes in the 2021 Tokyo Olympics. "It's gold or nothing," said the 25-year-old Obiena as he vowed to do his best to win that elusive first Olympic gold medal for the Philippines.
"I will go for that gold," he declared. "I know that's a really hard goal to achieve, but that's the goal.
That's why I'm doing all of this, not to get second and not to get third, to win it." Obiena believes anything is possible in the Olympics, and is feeding his hunger for the Olympic gold by improving his performance in every training and competition. " I'm just working on everything that could boost my chances of getting gold that day," he said.
Despite the challenges particularly during this time of pandemic, Obiena still continues to display vast improvement.
In two months, he has reset his own national record four times from 5.62 meters to 5.86m at the Orlen Cup in Poland last February. As the country's first qualifier to the Games, Obiena said he has sacrificed a lot on his journey of reaching new heights.
He has been away from his family for a long time to train extensively in Formia, Italy under Ukrainian coach Vitaly Petrov.
Away from the Philippines for around 15 months, Obiena said the sacrifices he and his coach Vitaly Petrov made were worth it.
Doing his routines on Christmas eve and the day before New Year, gave Obiena the needed time to improve on his ability of clearing higher heights. "I have never been a good athlete in indoor meets.
But my coach pulled all the strings he made," said Obiena.
The time spent training away from the Philippines has given Obiena a chance to become the best version of himself. "It worked and credit goes to him (Petrov)," added Obiena.
The 83-year-old Petrov, who has coached pole vaulting greats and world champions like Sergey Bubka, Yelena Isinbayeva and Giuseppe Gibilisco, showed a lot of passion in helping him improve his craft.
"So I look back at it in a way that it has given me time to be stronger, faster and be a better athlete by the time the Olympics come. And I think that the best perspective for me is to focus," said Obiena.
"I need to be the guy who jumps higher than the rest of the field… I focus on winning the meets."