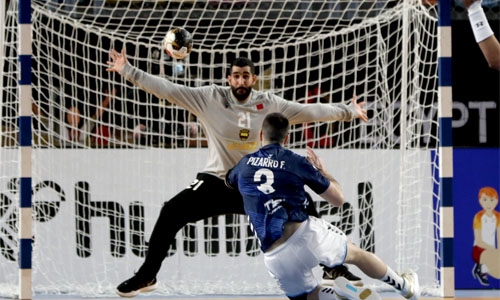 Bahrain concede three late goals in narrow loss to Argentina
TDT | Manama
The Daily Tribune – www.newsofbahrain.com
Bahrain suffered a disheartening 21-24 loss to Argentina last night in their second preliminary round match of the 27th IHF World Men's Handball Championship, being held in Egypt.
The Bahrainis faced a slim 10-12 deficit at the half but managed to take the lead early in the closing 30-minute period.
Their rivals, however, kept within striking distance and things were tight over the closing stages.
Both teams were deadlocked at 21-apiece with under eight minutes to play, which is when the Nationals lost the game as they conceded three all-important goals that eventually proved to be the difference.
Federico Gaston Feranandez, Sebastian Alejandro Simonet and Lucas Dario Moscariello connected on the decisive throws for Argentina.
Mohamed Ahmed finished as Bahrain's top scorer with five goals, while Ahmed Almaqabi chipped in with four and Ahmed Fadhul had three.
Mohammed Mirza, Ali Mirza and Mahdi Saad each found the net twice, while Hasan Al Samaheeji, Qasim Qambar, and skipper Hussain Al Sayyad all contributed one goal.
Federico Pizarro paced the Argentinians with six goals, while Moscariello had five. The result was Bahrain's second successive loss in Group D of the preliminaries as it followed their opening-game setback to defending world champions Denmark last Friday.
The nationals missed their opportunity to boost their chances of making it through to the next round, and now face a do-or-die game against DR Congo tomorrow.
The contest is scheduled for an 8 pm throw-off. It will decide whether they march through to the competition's next phase or if they will play in the President's Cup, which will feature the eight lowest-ranked teams.
Congo faced off with Denmark in last night's other Group D fixture.
They had bowed to their Argentinian counterparts in their first outing. Bahrain is being coached in the world championship by Icelandic tactician Halldor Johann Sigfusson.
The team includes Hussain Al Sayyad, Mohammed Mirza, Jassim Al Salatna, Ali Mirza, Mohammed Abdulhussain, Mohammed Habib, Mohammed Abdulredha, Ali Eid, Hassan Al Samahiji, Hassan Shehab, Ahmed Al Maqabi, Ali Abdulqader, Mahdi Saad, Qassim Al Shuwaikh, Hussain Mahfouz, Komail Mahfouz, Mohammed Habib, Abdulla Ali, Ahmed Jalal and Qassem Qambar.
This year's tournament marks the fourth appearance for the national team in the premier International Handball Federation (IHF) event. Bahrain had also made it to 2011, 2017 and 2019 editions.
Their best finish was 20th in 2019, after previously finishing 23rd both times in 2011 and 2017.