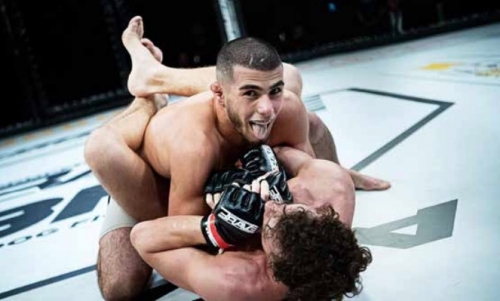 Muhammad Mokaev hails BRAVE CF ahead of first professional bout in Bahrain
TDT | Manama
The biggest prospect in mixed martial arts today, Muhammad Mokaev signed for BRAVE Combat Federation early this year and made his professional debut at BRAVE CF 37, in Sweden. A two-time world champion in IMMAF competition and the number one pound-for-pound amateur fighter in the world, Mokaev is now set for his first pro bout in the Kingdom of Bahrain, a special place for him.
Aside from representing KHK MMA under the guidance of His Highness Shaikh Khalid bin Hamad Al Khalifa the young prodigy solidified himself as the number one young athlete on the globe with two straight gold medals at the IMMAF World Championships held in Bahrain in 2018 and 2019.
Now he returns to the Kingdom as a professional mixed martial artist as he takes on Jamie Kelly at BRAVE CF 43, the finale of the Kombat Kingdom series that has made Bahrain the center of the MMA world once again.
And he has made it a point to compliment the structure with BRAVE CF, which has allowed him to train safely following all the guidelines of health and wellness, as well as providing all fighters with the comfort to only think about their own bouts. ''On October 1st, I'm giving everyone another great performance. The hospitality here in Bahrain is on another level.
Thank you so much to BRAVE CF for providing athletes with all their needs''. BRAVE CF 43 will be headlined by the return of Jarrah Al-Silawi, the best-ever Arab fighter, who will move up in weight to face Melvin van Suijdam.
Al-Silawi is the reigning Welterweight world champion but is willing to test the waters in the Middleweight division. If ''The Jordanian Lion'' beats his Dutch counterpart, he might be in line for a shock title shot against defending champ Mohammad Fakhreddine down the line should he decide to stay at Middleweight to try and become the first-ever two-division BRAVE CF world champion.