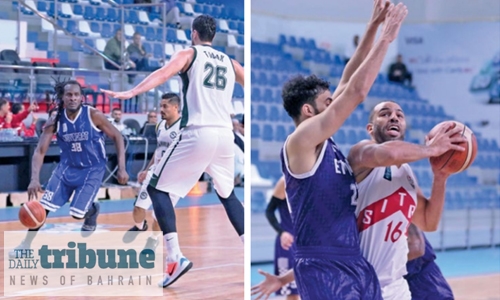 Ettihad dominate in overtime to beat Sitra
Al Ettihad needed overtime to put away Sitra 91- 84 last night in the Silver Division of the Zain Bahrain Basketball League. The game was deadlocked at 75-all at the end of regulation, forcing the extra five-minute session. It was a thrilling finish to the fourth quarter, as Ammar Mohammed Shabaan first gave Ettihad a 75-73 lead with a layup and only eight seconds to go.
But then Mohammed Abdulla replied for Sitra with his own basket with just two seconds remaining on the clock. In overtime, it was all Ettihad as they scored the first nine points without an answer from their opponents. Sitra only scored their first point with under a minute-and-a-half remaining, and by then Ettihad had full control of the game.
Shabaan scored 25 points to lead Ettihad in the game. He came off the bench and provided his team a much-needed spark. American professional William Byrd chipped in with 20 points, 20 rebounds and five blocks; Nasser Almosawi added 14 points, seven rebounds and seven assists; and Ali Ghadeer had 13 points 14 rebounds and six assists. For Sitra, Serbian import Milos Macura had 30 points and 21 rebounds, while Isa Ebrahim added 14 points and 11 rebounds as a substitute.
Mohammed Hakeem contributed 14 points and Abdulla Ali had 11. With the result, Ettihad remained undefeated in five games as they continued to top the Silver Division standings. Sitra, on the other hand, suffered only their second loss, also in five outings, as they stayed amongst the top three.
In yesterday's other game, Nuwaidrat made easy work of Bahrain Club in an 81-60 victory. Nuwaidrat enjoyed a dominant second half after trailing by one, 34-35, heading into the break. They outscored Bahrain Club by 17, 28-11, in the third quarter to pull away from their opponents, and then cruised in the fourth to the final buzzer. American Haminn Quantance was Nuwaidrat's top scorer with 30 points.
He also took down 22 rebounds in the win. Hasan Madan added 22 markers, including five of his team's impressive 13 three-pointers. Hassan Abbas added 12 off the bench while Ebrahim Albasri scored 11. For Bahrain Club, Serbian-Bosnian professional Dragan Tubak had 18 and 23 rebounds in the loss, while Jalal Akbar added 10 as their only other player in double figures.
Nuwaidrat's win was their third in five outings as they tied Sitra on the standings, while Bahrain Club suffered their second defeat to go with two wins. League action continues on Wednesday with one game in the Top Six, with Al Ahli facing Al Najma at 7.30pm.