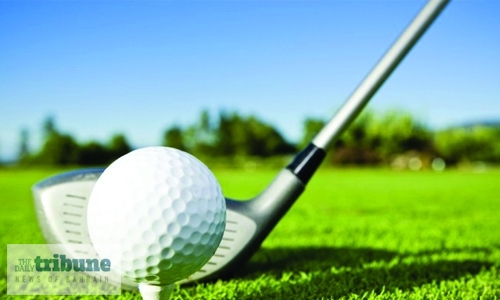 Owen, Towndrow take overnight lead in KHT golf
Homegrown talent Daniel Owen and fellow-professional Sean Towndrow took a share of the lead yesterday after the opening round of the 12th King Hamad Trophy golf championship, being played at The Royal Golf Club (RGC) at Riffa Views. Owen and Towndrow both carded scores of six-under-par 66 over the prestigious annual competition's first 18 holes.
They enjoyed a one-shot lead over the pair of Liam O'Neill and Matty Lamb, who were tied third. Another pair were deadlocked a further one stroke behind. They were Craig Ross and Monty Scowsill, who both had four-under-par totals of 68 from day one. Each of the top six golfers are from Great Britain. Both Lamb and Scowsill are amateur players. A total of 95 players representing 20 countries from around the world teed off yesterday at RGC's 18-hole Colin Montgomerie-designed championship course.
Owen had a brilliant front nine from yesterday's play. He had already birdied five holes by then but had also bogeyed the par-four eighth, before carding another two birdies over the back nine. Towndrow also had a fine start with an eagle on the par-five third hole. He birdied another five holes the rest of the day, but also had a bogey on the par-four 17th. O'Neill had an eagle on day one on the par-five 13th.
That helped him make up for back-to-back bogeys on holes four and five to keep him within a stroke of the leaders. Lamb also had a pair of bogeys but managed to card five birdies to match O'Neill. Scowsill was another to register an eagle for the day, sinking the par-five ninth hole in three shots. The field behind the top six golfers was tightly knit, with Peter Badawy of Lebanon ranked seventh with a three-under-par score of 69. There were then another 11 players who were two shots under and tied for eighth place.
They included Jamal Allali and Id Omar Ayoub from Morocco; Mathiam Keyser from South Africa; Gabbe Axell from Sweden; and Phil Kelly, Jake Bolton, Louis Campbell, Callum Farr, Jamie Elson, Zane Scotland and Tom Sloman, all from Great Britain. Bahrain's best-ranked participant on day one was Mohammed Diab Alnoaimi, who was tied-34th with a two-over-par total of 74.
The second round will be held today with the players hoping to make the cut of 45, who will then be battling it out in the third and final round tomorrow. The first group of golfers are scheduled to tee off this morning at 7am.