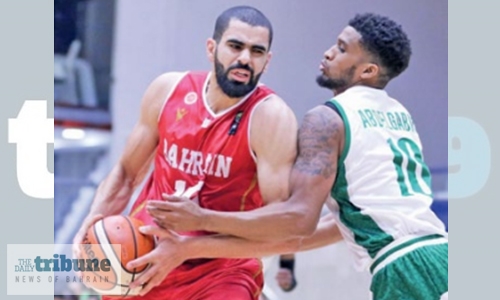 Al Suwailem helps Saudi hand Bahrain first loss in GBA basketball
Bahrain were dealt their first loss of the Gulf Basketball Association (GBA) Men's National Teams Championship 2019 last night in Kuwait, falling to Saudi Arabia 70-77 in their penultimate preliminary round game. The Bahrainis battled hard throughout the contest and took the lead with just over two minutes to go on a basket by Muzamel Ameer.
But Saudi big man Mohammed Al Suwailem lived up to his seven-foot stature and made a couple of crucial baskets down the stretch that broke a 69-all deadlock and later iced the win for the Saudis. The result gave Bahrain their first defeat to go with two victories, while Saudi wrapped up their campaign in the preliminaries with three wins and a single loss. Despite the setback, the Bahrainis stayed on track to make it through to the semi-finals. They have one game remaining in this round.
It will be today against hosts Kuwait at 7pm, and it will determine their seeding heading into the final four. The Saudis are also assured of a semis spot. Bahrain had just three players score in double figures yesterday. Naturalised centre CJ Giles had 14 points and 14 rebounds while Ahmed Salman contributed 13 off the bench. Subah Hussain added 11, while Mohammed Ameer had nine points, and Mohammed Buallay and Muzamel Ameer finished with seven apiece.
Bader Abdulla Malabes scored four points, Hesham Sarhan had three and Ahmed Aziz finished with two to round out the national team's scorers. Al Suwailem had 21 points and 15 rebounds to spearhead the Saudis. Marzouq Almuwallad added 18 while Khalid Abdel Gabar had 16, including three three-pointers. Mohammed Alsager scored 10 points for the Saudis as a substitute. The game was tight throughout and Saudi had a slim 15-14 lead at the end of the first quarter.
The Bahrainis came alive in second and took a 39-35 lead at the half, but in a see-saw third period, lost their advantage and Saudi went ahead 58-54 heading into the fourth. Saudi appeared to be running away with the win as they took a 67-60 lead, but Bahrain put together eight straight points capped by a Muzamel Ameer lay-up to go in front. That set the stage, however, for Al Suwailem's heroics.
He first gave the Saudis a 71- 69 lead with a jumper then later had an offensive rebound and put-back with 27 seconds left to make it 75-70. Today will be the end of the tournament's preliminary round. One team will be eliminated while the top four move on to the knockout semis.
In the final four, scheduled for Saturday, the top-ranked squad take on the fourth seeds, while team number two battle team number three. The gold and bronze medal games will then take place on the championship's final day on Sunday