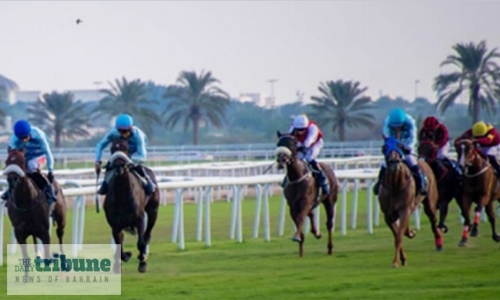 Packed seven-race card set for REHC on Friday
Port Lions, Starboy and Mushtaq are all with chance in the main race tomorrow at Rashid Equestrian and Horseracing Club in Riffa The seventh event on the day's race card is for the Bahrain Petroleum Company (Bapco) Cup. It will be held over a distance of 1,400 metres and it carries a cash prize of BD6,000.
A total of 12 horses are entered in the race, which is scheduled for a 4.30pm start. Port Lions is owned by Victorious, trained by Hesham Al Haddad and will be ridden by Paddy Mathers. Starboy is owned by Al Afoo Racing Stable, trained by Mohammed Saeed and will be ridden by Lee Newman.
Mushtaq is owned by Al Asayel Racing, trained by Khalid Hilal and is to be ridden by Andrew Elliott. The other horses are Excuse to Linger, Fujaira Bridge, Masarzain, Northern Thunder, Raj to Riches, San Dimas, Sir Viktor, Solar Flair and Wakame. Six other races are to be held from 2pm, with the first race for the Bahrain Olympic Committee Cup and the five others for a Bapco Cup. Race one is over 1,400m and carries a prize of BD5,000.
There are six horses in the race. The second race is over 1,600m with a BD2,000 prize. Twelve horses are entered. Race three is over 2,000m with a BD3,000 prize and 10 horses. Race four is over a 1,000m straight with a prize of BD3,000 and 11 entered horses. Race five over 1,200m will see nine horses competing for a share of the BD3,000 prize; while race six over 1,400m with a prize of BD3,000 is with 11 horses.