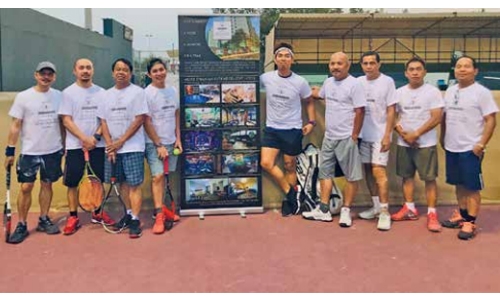 Team Faro earns tight victory
Team Faro scored a 3-2 narrow victory against Team Manny 3-2 in division two of the 15th FCTG Team Tennis Tournament, being held at Bahrain Tennis Federation courts in Isa Town. Team Faro took the first win when Omar and Dennis defeated Mike and Ronel in a tight match scoring 2-6, 6-3, 12-10. Moustafa and Amin from Team Manny scored 6-4, 6-2 against Faro and Trevor to level the match at 1-1.
Team Faro took the lead 2-1 when Ed and Raul defeated Ali and Billy 6-4, 7-6. Team Manny clawed its way back as Manny and Girish scored 6-1, 6-1 against Nilo and Pio levelling the match to 2-2 In the decisive fifth match, Jay-ar and Ato defeated Dr. Zuhair and Albert 6-2, 6-2 a 3-2 victory for Team Faro. In division 2, Team Ana defeated Team Ian 3-1. Team Ana took the lead 2-0 with two walk overs.
Eric and Lydia scored 3-6, 6-4, 10-5 tight victory against Elvie and Lei to secure the victory for Team Ana. Jojo and Jona from Team Ian won a consolation victory against Jing and Hamza 6-1, 6-2 The tournament is sponsored by Grand Safir Hotel Bahrain and organized by Filipino Club Tennis Group (FCTG).
Other Results
Division One: Team Fuad beat Team Viomel 4-1, Team Aldwin beat Team Faro 5-0, Team Roni beat Team Vineet 3-2, Team Randy beat Team Viomel 3-2, Team Faro beat Team Roni 4-1, and Team Fuad beat Team Mundeng 4-1.
Division Two: Team Ching 2 beat Team Alya 4-1, Team Leah beat Team Ana 3-2, Team Ching 1 beat Team Ian 3-2, Team Ching 1 beat Team Mac 3-2, Team Alya beat Team Ian 3-2, and Team Ching 2 beat Team Ana 3-2.