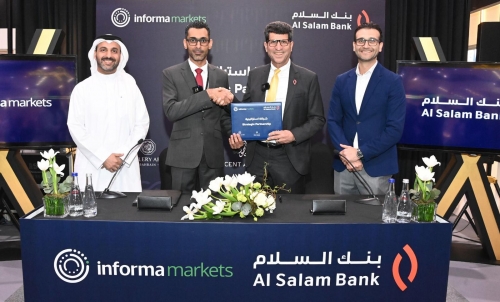 Al Salam Bank exclusive partner of Informa Markets Exhibitions
TDT | Manama
The Daily Tribune – www.newsofbahrain.com
Al Salam Bank announced its strategic partnership with Informa Markets, a global events and exhibition organizer. The Bank will be the official sponsor and exclusive banking and finance institution at select Informa Markets exhibitions, including the Autumn Fair, Jewellery Arabia, and Scent Arabia.
The signing ceremony took place yesterday at the Jewellery Arabia Hall at the Exhibition World Bahrain in Sakhir. The event was attended by Abdulkarim Turki, Chief Operating Officer at Al Salam Bank, Mohammed Ebrahim, General Manager of Informa Markets, and several Executive Management members from both institutions, as well as members of the media.
Anwar Murad, Deputy CEO - Banking at Al Salam Bank, said: "This program will be aimed at providing Bahraini talents interested in the events and exhibitions industry with the opportunity to gain specialized training and professional development, in addition to equipping them with the necessary hands-on experience in banking and event management, reflecting positively on our community as a whole."
Mohammed Ebrahim, General Manager of Informa Markets, expressed his enthusiasm for the collaboration, stating: "This partnership will significantly enhance the exhibitor experience at our events and provide valuable support to both local and international participants."
The partnership will also include the establishment of the Al Salam Bank's exclusive lounge area at all Informa Markets exhibitions, that will feature unique Jewellery pieces on offer by sponsors and exhibitors, in addition to providing exclusive invitations to select clients at Al Salam Bank, a dedicated registration queue at events, along with VIP access and parking services.