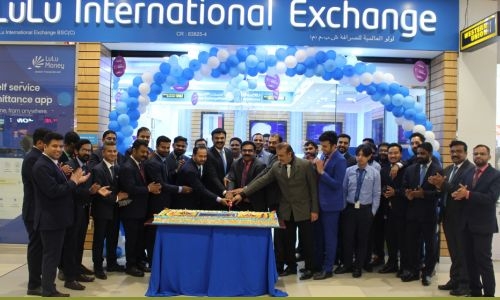 LuLu International Exchange celebrates 10 years in Bahrain
TDT | Manama
The Daily Tribune – www.newsofbahrain.com
LuLu International Exchange, one of Bahrain's most trusted names in cross-border payments, celebrates the 10th anniversary of operations in the Kingdom of Bahrain.
The company has achieved this appreciable milestone by fostering a sense of assurance among retail and corporate customers of Bahrain; highlighting its achievement as a seamless provider of currency exchange and cross-border payment services.
Over the years, the company has introduced a range of groundbreaking initiatives designed to enhance customer experience and promote financial inclusion, through various partnerships that leverage its growing network of 18 customer engagement centers and digital payment solutions.
• One of the hallmarks of the company's commitment to customer satisfaction is the Exclusive Relationship Manager service. Tailored exclusively for Super Elite and Elite customers, this innovative service provides personalized attention and a warm, welcoming experience. It comes with a host of exciting value-added benefits that set LuLu International Exchange apart from the competition.
• In a digital age, LuLu International Exchange Bahrain has embraced technology with the LuLu Money App. Notably, it achieved the industry- leading digital remittance conversion rate.
• To further incentivize customer loyalty and attract new patrons, LuLu International Exchange Bahrain has introduced the Value-Added Loyalty Program offering exciting offers across various categories, exclusively for LuLu Money App users and Gold Card holders.
• Through its collaboration with Arab Financial Services (AFS) and the introduction of Benefit Pay, LuLu International Exchange has not only enhanced the convenience of cashless payments for customers but also actively contributed to the promotion of a cashless economy.
• Empowering women to embrace digital payment solutions and financial independence, LuLu International Exchange Bahrain launched the Digital Women drive, an initiative aimed at encouraging women to explore the world of digital finance.
• In its commitment to nurturing local talent, LuLu Exchange Bahrain has implemented the Future Leader Programme to enhance the efficiency and productivity of staff, fostering promising future leaders for the nation. LuLu Exchange Bahrain has undertaken several innovative initiatives to promote financial literacy and inclusion, yielding remarkable results over the years.
• The company has not only excelled in its financial services but also in its commitment to social and cultural integration. By supporting and participating in various social and cultural events in Bahrain, LuLu International Exchange has forged strong bonds between customers, employees, and the brand.
• In a historic partnership, LuLu International Exchange Bahrain has joined hands with BBPS to simplify bill payments for Indian citizens residing in Bahrain. This initiative eases the process of paying bills in India for services like insurance, telecom, and other utilities.
• The exceptional quality of service provided by LuLu International Exchange customer engagement centres is reflected in their exceptionally high online ratings, further moulding their reputation as a trusted financial institution in the Kingdom of Bahrain.
• LuLu International Exchange Bahrain has collaborated with the Ministry of Labor to launch the LMRA Registration program, streamlining the labour registration process for customers and ensuring their security.