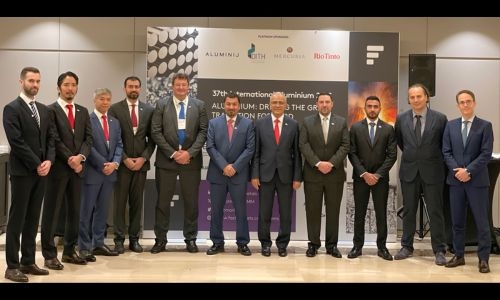 Alba CEO key panelist at Fastmarkets International Aluminium Conference
TDT | Manama
The Daily Tribune – www.newsofbahrain.com
Aluminium Bahrain (Alba)'s CEO Ali Al Baqali was a panellist on the Opening Executive Panel: 'State of the Aluminium Industry' at the 37th Fastmarkets International Aluminium Conference 2023 that is being held from 12 to 14 September in Barcelona, Spain.
The Opening Executive Panel, comprising top executives from the aluminium industry -- Hydro's President and CEO Hilde Merete Aasheim and Hongqiao Group's Special Advisor Ron Knapp -- explored several topics including the global supply/demand outlook and key business opportunities in the next 18 months as well as potential implications of geo-political shifts for the aluminium market.
Al Baqali spoke about the resilience of the Middle East market and emphasised that Alba's ESG Roadmap was developed to address EU's emerging Carbon Border Adjustment Mechanism (CBAM), Bahrain's commitment towards Net Zero Emissions by 2060, customers' demand for lower carbon or greener aluminium products.
Al Baqali underlined that the Company is working today on an action plan to identify areas for potential GHG reduction, set CO2 targets and monitor CO2 capture for our afforestation drives.
He also highlighted Alba's Power Station 5 Block 4 Project, which will reduce the Company's GHG emissions intensity ratio by 0.5x once it is commissioned in 2024.