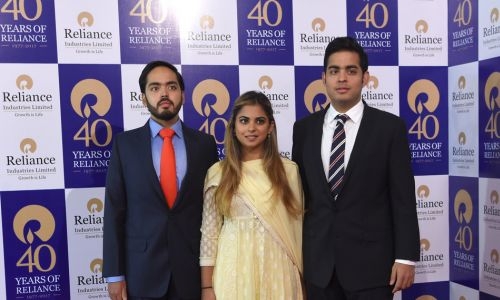 Children of India's Ambani to join Reliance board
AFP | Mumbai
The Daily Tribune – www.newsofbahrain.com
The three children of Asia's richest man Mukesh Ambani will become directors of the board of his Indian oil-to-technology conglomerate Reliance, the company said Monday.
Isha Ambani, Akash Ambani and Anant Ambani are already "leading and managing key businesses" of Reliance including in retail, digital services and energy, the company said.
Their names were submitted to shareholders for approval at the annual general meeting on Monday.
India's most valuable company by market capitalisation, Mumbai-headquartered Reliance's multibillion-dollar enterprise has been driven by its oil and petrochemicals businesses.
"I am delighted to report yet another year of stellar all-round performance," chairman Mukesh Ambani said in his annual speech to shareholders, announcing yearly net profit of $8.9 billion.
The results come after the demerger in October of Jio Financial Services (JFS) and its stock listing earlier this month, in a bid to expand its reach into the consumer lending space.
In recent years, the company has diversified into new areas including retail and its telecoms arm Reliance Jio.
In July, Reliance reported weaker-than-expected quarterly profits, weighed down by its oil-to-chemicals arm even as its consumer-facing divisions posted healthy profits.
Ambani said Jio's customer base now topped 450 million subscribers, reflecting a year-on-year revenue growth of over 20 percent, with its rapid 5G rollout "on track to cover the entire country" by the year's end.
"This makes Jio 5G the fastest-ever 5G rollout of this scale anywhere in the world," Ambani said, adding the company's "focus on continuous innovation has positioned us to be among the first globally to develop 6G capabilities."
He also announced the launch of a 5G wireless hotspot device called Jio AirFiber on September 19.