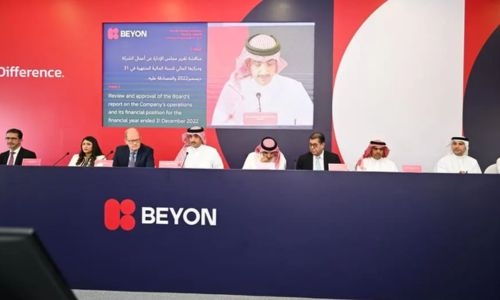 Beyon AGM approves BD53.9m cash dividends
TDT | Manama
The Daily Tribune – www.newsofbahrain.com
Beyon shareholders yesterday approved a recommendation to distribute a cash dividend of BD53.9 million (US$143.0M), at a value of 32.5 fils per share during its Annual General Meeting (AGM) at the Beyon campus in Hamala.
Out of the total dividend, 13.5 fils per share was already paid during the third quarter of 2022 with the remaining 19.0 fils announced during the meeting to be paid in the coming weeks.
The meeting also elected Board Members for the next three-year term 2023-2026.
Eight members have been appointed by the major shareholders, Shaikh Abdulla bin Khalifa Al Khalifa, Ahmad Mazhar, Daniel Ritz, and Saleh Romeih as representatives of Mumtalakat Holding Company.
Khalid Taqi and Fatema Alarayedh as representatives of the Social Insurance Organization.
Shaikh Ali bin Khalifa Al Khalifa, and Waleed bin Hindi as representatives of Amber Holdings.
The meeting included the election of two members by the general assembly, Abdulla Bukhowa and Ahmed Abdulrahman.
Beyon Chairman Shaikh Abdulla bin Khalifa Al Khalifa said, "We announced strong performance for 2022, which ensured excellent dividends for Beyon's shareholders with an increased payout of 32.5 fils per share up from 30.0 fils for 2021.
During the AGM, Beyon CEO Mikkel Vinter presented an overview of the 2022 accomplishments, adding that the company's strong performance for 2022 was supported by solid revenues from Bahrain and across our international operations.
The meeting was in the presence of Beyon's Chairman, Board members, and executive management.
Beyon's external auditor, Jamal Fakhro, Managing Director of KPMG Fakhro, representatives from Bahrain Bourse and shareholders were also present.