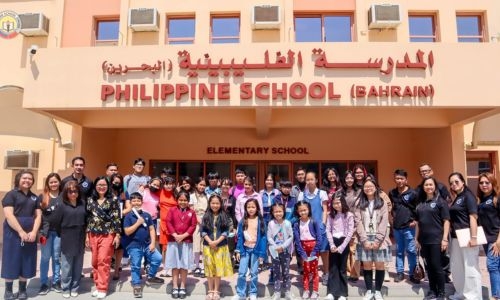 Free art workshop organised for 26 Philippine School Bahrain students
TDT | Manama
The Daily Tribune – www.newsofbahrain.com
An art workshop conducted by the Filipino Creatives Bahrain artists was held on 24 March for the 26 students of Philippine School Bahrain.
The students who attended the free art workshop were from Grades 3 to 11. They were highly recommended by their teachers being the gifted and creative students of the school. Filipino Creatives' artists Ms. Berna Carangan, Ms. Ester Trinidad and Ms. Jeah Valerio, Philippine School alumnis, led the art workshop.
The core group and officers of FilCreatives were also present to support the activity.
They were very much thankful to PSB Admins and staff led by Ms. Gydabelle Naval, Principal, Ms. Ivy Simbala, HS Vice Principal, Jestoni M. Jasmin, Elementary Vice Principal, Mr. Glenn D. Raz, Head of Student Affairs, Ms. Liezl C. Mercado, Coordinator for Student Activities and Mr. Rogie B. Garan. The team held a workshop in two sessions, the first session was about the basic principles of graphite or pencil drawing.
They taught the students about the proper shading in shadowing. The second session was about oil pastel, where the students were free to think of their own subject within the style of cubism.
At the end of the workshop, the students successfully produced colourful and creative pieces as they applied the new techniques learned.