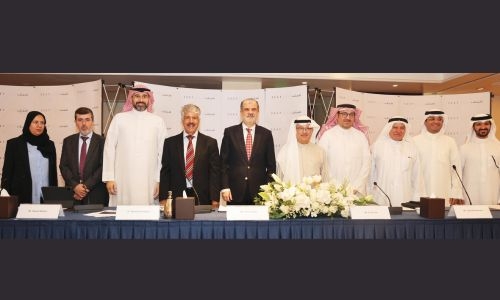 Seef Properties AGM approves BD 3.68 million cash dividends
TDT | Manama
The Daily Tribune – www.newsofbahrain.com
Seef Properties' shareholders have approved recommendations to distribute cash dividends of 8%, equivalent to BD 3.68 million (8 fils per share), during the Ordinary Annual General Meeting held yesterday at Awal Ballroom.
The meeting was presided over by Seef Properties' Chairman, Essa Mohamed Najibi, and attended by Chief Executive Officer, Ahmed Yusuf, and Board Members.
In addition to the approval of the financial results for 2022, shareholders also approved the allocation of BD 170,000 in support of charitable and community causes.
Seef Properties' net profit attributable to shareholders for 2022 was reported at BD 6.20 million, representing a 23.46% increase compared to BD 5.02 m in the previous year.
Earnings per share attributable to shareholders of the parent amounted to 13.47 fils, compared to 10.91 fils a year ago.
Operating profit also rose by 16.69% to BD 11.98 m from BD 10.26 m in the year-ago period.
During the meeting, Seef Properties Chairman, Mr. Najibi, described the opening of 'Yabeela,' one of the largest projects of Seef Entertainment at Al Liwan, in 2022 as a milestone and a significant source of income, which will have a great impact on enhancing the company's revenues in the coming years.
He added, "We will continue to move steadily towards realising further financial and operational achievements to lead our work fields across the Kingdom."