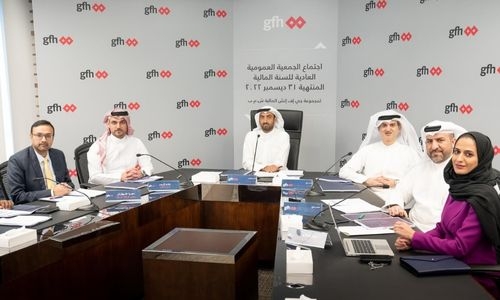 GFH shareholders approve six percent cash dividend
TDT | Manama
The Daily Tribune – www.newsofbahrain.com
GFH Financial Group shareholders yesterday approved the recommendation to distribute cash dividend of 6% of the nominal value of all the ordinary shares, save for treasury shares, equivalent to US$0.0159 (BD 0.0060, UAE Dirhams 0.05840) per share during Annual General Meeting.
Shareholders also confirmed the appointment of Yousef Abdullah Taqi as a complementary independent director of the Board in its current term, and the reappointment of the Group's external auditors for 2023 Commenting, Ghazi Al Hajeri, Chairman of GFH, said, "We are pleased to announce that shareholders have approved the distribution of another solid dividend as the Group continues to focus on creating value for our shareholders, investors and partners.
We have been building on this momentum in 2023 and remain focused on further growth in the year ahead."
According to Hisham Alrayes, CEO of GFH, the company has made significant progress in its business throughout 2022.
The company, he said, achieved double-digit growth in income, completed over US$1.2 billion of new investments across global markets, and listed its shares on the Abu Dhabi Securities Exchange (ADX), its fourth regional listing, thus expanding its shareholder base and creating more liquidity.
Furthermore, GFH received a ratings upgrade from S&P Global Ratings, which upgraded its ratings to 'B' with a Stable Outlook, indicating the ongoing improvements and diversification in the company's business.
"In 2022, the Group established new offices in London and Riyadh and concluded the acquisition of two new specialty asset management businesses in the US.
These acquisitions will support the further growth of our investment activities and the Group's pipeline of well-performing, income-yielding investments in the healthcare and residential real estate sectors."