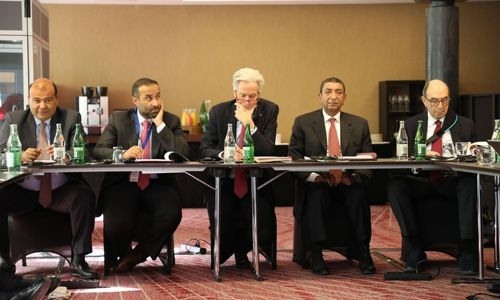 Swiss-Arab relations witnessing growth in economic aspects- UAC President
TDT | Manama
The Daily Tribune – www.newsofbahrain.com
The President of the Union of Arab Chambers (UAC), and the Chairman of Bahrain Chamber of Commerce and Industry (BCCI) Samir Abdullah Nass held a consultative meeting with the Board of Directors of Arab-Swiss Chamber of Commerce and Industry (CASCI).
Arab ambassadors in Switzerland attended the meeting to discuss strengthening means of cooperation and coordination to serve Arab economic interests and increases the volume of trade exchanges between the Arab world and the international communities in general and Switzerland in particular.
Nass stressed the keenness of the leaders and heads of Arab countries, to strengthen Arab cooperation in the economic field to achieve economic integration that strengthens the Arab international and regional position to reach to the development goals of the Arab people.
BCCI chairman pointed out that Bahrain under the leadership of His Majesty King Hamad bin Isa Al Khalifa, gives a high importance to strengthening the bonds of economic relations with the Arab world and internationally and facilitating the flow of investments and joint Arab projects as it is a basic pillar for laying the foundations of Arab action and overcoming the current economic challenges.
UAC president highlighted the importance of Arab economic openness balanced with global economic entities, especially in light of the productive and development leap witnessed by Arab resources, with the aim of overcoming the challenges and repercussions caused by the current global repercussions as a result of COVID-19 pandemic, and the Russian-Ukrainian war.
He said that the economic reforms and future strategic visions adopted by Arab governments to enhance levels of economic flexibility contribute to creating true global partnerships and open the way for Arab markets to global investments in the interest of the Arab peoples and meet their aspirations to achieve comprehensive economic development.
BCCI chairman indicated that CASCI was established since 1974, to strengthen economic and cultural relations between the two parties, and expand opportunities for industrial and technical cooperation.
He emphasized on working together to transfer technology and vocational training and establish joint companies in the fields of industry and trade.
Nass called on the Arab-Swiss business communities to take advantage of the commercial and investment opportunities offered through the CASC.
UAC president affirmed the importance of exchanging experiences between the two sides in the fields of entrepreneurship, small and medium enterprises, and areas related to innovation and technology, within the framework of the extensive experience enjoyed by both parties in these fields to serve trade movement in the Arab countries and the Switzerland.