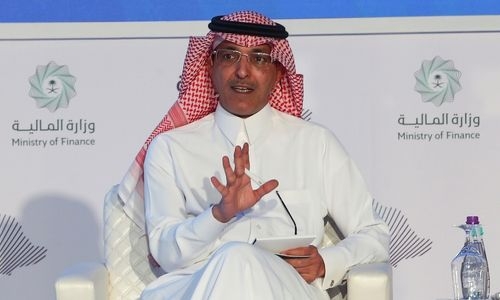 Saudi Arabia could invest in Iran 'very quickly'
Agencies | Riyadh
The Daily Tribune – www.newsofbahrain.com
Saudi Arabia could start making investments in Iran "very quickly" after they agreed to restore diplomatic ties, the Saudi finance minister said yesterday, despite sweeping US sanctions against the Islamic republic.
Mohammed Al-Jadaan said there were "a lot of opportunities" in Iran and that he couldn't see any reason to prevent investments taking place between the two Gulf heavyweights.
"I would say quickly," he told the Financial Sector Conference in Riyadh, when asked how soon Saudi Arabia could start making "significant" investments in Iran.
"When people really stick to the principles of what was agreed, I think that that could happen very quickly."
In a surprise, Chinese-brokered announcement on Friday, Saudi Arabia and Iran agreed to work towards restoring ties and reopening diplomatic missions within two months.
The oil-rich rivals, who are on opposing sides in conflicts across the Middle East, severed relations in 2016 after Saudi's execution of a Shiite cleric triggered violent protests.
But Al-Jadaan said: "There is no reason for (investments) not to happen.
I mean, Iran is our neighbour and has been and will continue to be for hundreds of years.
"So I don't see any issue that would prevent the normalisation of the relationship across investments... as long as we stick to the agreement, you know, respecting sovereign rights, not interfering in other affairs."
He added: "I think that there are a lot of opportunities in Iran, and we provide a lot of opportuSaudi Finance Minister, Mohammed al-Jadaan nities for them."