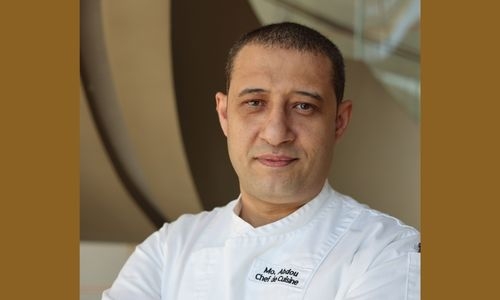 Translating Culinary Passion into Guest Satisfaction - Eats and Treats by Tania Rebello
TDT | Manama
The Daily Tribune – www.newsofbahrain.com
Dining at luxury hotels often presents its set of expectations as diners pay for ambience, exquisiteness, and quality.
I spoke to Mohamed AbdouComplex Chef de Cuisine at The Westin and Le Meridien Hotels, who has left no stone unturned to ensure an elevated dining experience.
With a passion for cooking and over two decades working at luxury properties, Mohamed is a mastermind in the kitchen.
A staunch believer in food quality and guest satisfaction, he ensures that guests taste the result of his varied experience in the food that leaves his kitchen.
He has successfully added new items to the menu and brought the 'Eat Well' brand pillar of Westin to life at Furn Bistro.
With a warm smile and composure, he made his way to the table to talk about his journey thus far.
1. What attracted you to a career as a chef?
I started as a server, but I was particularly attracted to the work ethic of executive chefs, chefs de cuisine and how they attended to guests.
I absorbed skills from various chefs worldwide and received cross-training during my free time to be a chef.
This is how I began working as a Commis II, climbing my way up to a Chef de Cuisine.
2. What is the best part and most challenging part of your job?
When I speak about the best part of my job, I would say that there are many aspects to it.
Firstly, the ability to manage a team defines the success of what we do. Another aspect would be the opportunity to interact with guests and make them feel important.
In terms of challenges, pressure is something that we must deal with daily.
Pressure regarding expectations such as food quality, food costing, guest engagement, and action plan.
However, it is manageable due to my level of experience.
At the end of the day, when you realise that the operations went on smoothly and the guests were happy, it gives you a sense of satisfaction.
3. Name three ingredients that you love to work with.
I love to work with seafood, pasta, and meat.
4. Name a chef that has truly inspired you, and how?
Several chefs have inspired me in different ways.
For instance, I worked with an Indonesian American chef at the Four Seasons in Egypt.
His charisma was highly appreciable.
He had a great way of managing chefs and excellent PR skills with the guests.
He had a powerful personality. Regarding culinary skills, Chef Yann Lejard from the Ritz-Carlton, Bahrain, has been a great inspiration.
He has mastered cooking and presentation skills, and I learned a lot from him.
5. What is your favourite cuisine? Why?
I love Mediterranean and Arabic cuisine.
Grilled food is my favourite.
I also love butter chicken, and I cook it at home frequently.
6. Tell us about the recently introduced 'Eat Well' Menu.
What was the thought process behind it?
At Westin, we believe that feeling good starts with getting the proper nourishment for our guests.
That is why we aim to provide nutritious options for their overall well-being.
As you know, some guests are on a journey to be healthy; they have calorie limitations as part of their diet plan, so this menu has been designed for them.
The ingredients are fresh, and whenever possible, we source them locally.
We get a perfect selection of fresh fruits and vegetables from the farmers' market.
We also source fresh chicken and eggs as they are produced locally at farms.
We ensure that dishes are sourced responsibly, crafted flexibly, and created thoughtfully to accommodate individual dietary needs and preferences without compromising flavour, taste, or satisfaction.
Marriott aims to achieve a 30% reduction in food waste by 2025.
Hence, there are options for guests to select from a full portion as well as a half portion according to their requirements.
7. How do you maintain a work-life balance?
The most important factor is to have a supportive partner.
I explained my dedication to work to my wife before we married so she would understand when I spend 12-13 hours a day at work.
I love my work, so I also visit the hotel during my days off, especially if the kitchen is busy, as I like to support my team.
Nevertheless, I make time to take my family out and spend time with them.
8. What are some hobbies/ activities that you enjoy?
I love football.
I used to play football in school and was very good at it. Now, I do not have time to play, but I love watching football.
I also like reading cookbooks to learn more about cuisines and cooking techniques.