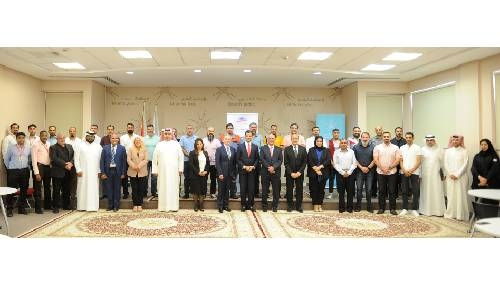 Bahrain Polytechnic launches academic programme for Alba employees
TDT | Manama
The Daily Tribune – www.newsofbahrain.com
A reception was organised for the first batch of trainees from Alba who will undergo a programme that was specifically designed to provide academic training to their employees in order to develop the capabilities of the labour market, notably the national workforce.
The event was held under the patronage of His Excellency Eng. Wael bin Nasser Al Mubarak, Chairman of Bahrain Polytechnic's Board of Trustees; His Excellency Ali Al Baqali, CEO of Aluminium Bahrain B.S.C. (Alba); and Professor Ciaran O Cathain, CEO of Bahrain Polytechnic, This comes as part of the memorandum of understanding that was signed between the two organisations on 23 March 2022.
This programme aims to develop the trainees' skills, career advancement opportunities, and promote the concept of lifelong learning. This will contribute in an advanced way to achieve the goals of Bahrain's 2030 Vision, as well as the goals of the National Qualifications Framework.
On this occasion, Eng. Al Mubarak stated: "The Polytechnic believes in the role of training in developing the skills of human capital in the Kingdom.
It contributes to adding a qualified and capable workforce to the labor market, as training is a strategic option for any entity looking to prepare their human capital capable of meeting the needs of their work, and any rapid developments and changes that occur in their respective field."
He added: "This training program that was developed for Alba is the inauguration of a series of training programs targeted towards various governmental and private companies and institutions. These programs will aim to strengthen the principle of national partnership and unify joint efforts to invest and develop our national workforce. This will result in achieving the objectives of the Polytechnic's Strategic Plan, as well as Bahrain's 2030 Vision.
Prof Cathain said: "The Polytechnic is keen to develop ouputs and academic programs in line with labour market requirements from the various industrial and investment institutions in the Kingdom.
This programme is among a series of programs that are implemented in partnership and cooperation with the private sector. In turn, Al Baqali gave a speech during the ceremony in which he said: "Alba and Bahrain Polytechnic share a long-standing relation in the fields of education, training, and research.
We are pleased to have our national employees conduct this programme at the Polytechnic, as our investment in their education will yield the best interest for Alba.
"Such initiatives will further support the professional development of our Bahraini nationals, and in turn foster their ability to deliver on Alba's vision – to be the number one aluminium supplier for the next generation."