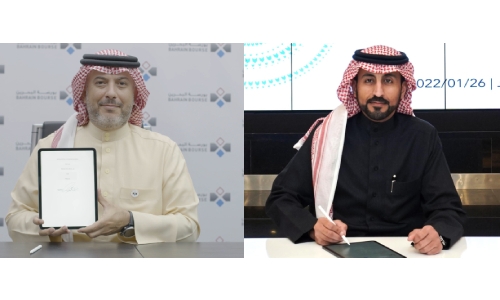 Bahrain Clear, Securities Clearing Center Company join hands
TDT | Manama
The Daily Tribune – www.newsofbahrain.com
Bahrain Clear, a fully owned subsidiary of Bahrain Bourse, has signed a Memorandum of Understanding (MoU) with Muqassa, the Securities Clearing Center Company in Saudi Arabia fully owned by the Saudi Tadawul Group.
The agreement was signed by Shaikh Khalifa bin Ebrahim Al-Khalifa, Vice Chairman and Managing Director of Bahrain Clear and Wael Al-Hazzani, CEO of Muqassa.
The MoU seeks to foster the exchange of information and experiences to develop central clearing in both countries, as well as to explore collaboration opportunities concerning central clearing development and training services.
Shaikh Khalifa bin Ebrahim Al-Khalifa, Vice Chairman and Managing Director of Bahrain Clear, commented on the occasion:
"This MoU clearly defines the goal and purpose of our collaboration and establishes a formal channel of information exchanges, broadening the cooperative area in terms of business development and innovation.
The MoU will encourage initiatives for further practical cooperation, resulting in significant benefits for both exchanges, including efficiency resulting in enhanced liquidity."
"We look forward to working with Muqassa to strengthen cross-border connectivity and financial ecosystems in Bahrain and Saudi Arabia, further intensifying the strong bilateral ties between both Kingdoms," Shaikh Khalifa added.
Wael Al Hazzani, CEO of Muqassa stated, ''This MoU is a true testament to our mutual dedication to promoting a fair and competitive trading environment.
In addition, this agreement establishes a foundation for effective cooperation between the Muqassa and Bahrain Clear to explore training opportunities and various areas of development in securities depository to create new opportunities to achieve mutual benefits for both parties and fulfil the objectives of the MoU."
The MoU is in line with the GCC countries' joint efforts to strengthen the link between systems and institutions in the capital markets sector.