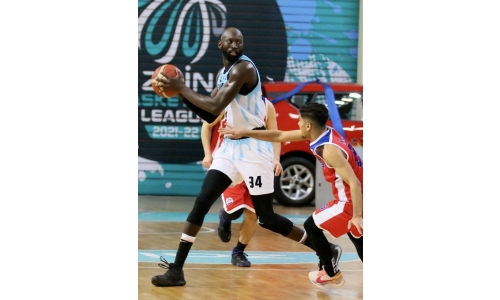 Samaheej, Nuwaidrat win tight Silver League games
TDT | Manama
The Daily Tribune – www.newsofbahrain.com
Samaheej and Nuwaidrat both triumphed yesterday in a pair of thrilling Silver League games in the 2021/2022 Zain Bahrain Basketball League, being played at Zain Basketball Arena in Um Al HassamXXXX.
Samaheej survived a late scare in an 89-79 victory over Sitra, while Nuwaidrat overcame a battling Al Ettihad 69-64.
In Samaheej's win, they took a commanding 34-16 lead at the end of the first quarter and appeared to be well in control.
But Sitra gradually clawed their way back into the contest and made their opponents sweat over the game's final stages.
Samaheej led by as many as 20 points, but Sitra was able to get to within a single possession thrice in the final quarter.
They last came to within two points, 78-80, with just over two minutes remaining in the game following a Mahdi Abdulameer driving lay-up.
But Samaheej answered by scoring the next four points, including two pressure-packed free throws by Sayed Ali Mahmood and then a jump shot from Basel Adel with just 59 seconds to go.
Sitra got no closer the rest of the way.
Towering Senegalese professional Mansour Kasse and skipper Basel Adel combined for 54 points to spearhead Samaheej, who got all their production from just four players.
Kasse top scored with 28 and also took down 19 rebounds and registered four blocks, while Adel added 26 including four three-pointers.
Mahmood contributed 19 markers, including five triples, and 10 rebounds, while Mohammed Abdulla Jaffar was their only other scorer with 16 points.
American Marcel Jones paced Sitra in the loss with 31 points and 18 rebounds while playing the full 40 minutes.
Veteran court general Hussain Taqi came off the bench to contribute 17, while Nawaf Nabeel finished with 12 in the loss.
With the result, Samaheej claimed their first win in three games in the Silver League, while Sitra was dealt their second loss to go with one win.
In Nuwaidrat's win, Abbas Jameel buried a go-ahead three-pointer with just under two minutes remaining to give his team a 67-64 lead after Ettihad managed to fight back from 10 points down in the first minute of the final quarter.
Ettihad then had multiple chances from four successive offensive rebounds to either tie the game or get to within one point, but they could not convert their attempts. Hassan Abbas made them pay with two charity shots to ice the game with just 23 seconds remaining. J
ameel finished with 15 points to lead Nuwaidrat, all of which came from beyond the three-point line.
Abbas and Murtadha Salman chipped in with 12 apiece, while Anthony Walker scored 11 and took down 14 rebounds.
For Ettihad, Hassan Fahad had 15 while Hassan Albossta came off the bench to contribute 14.
As the result, Nuwaidrat remained undefeated in four games as they top the Silver League standings.
Ettihad suffered their first loss in three contests.
Tonight, the Zain Bahrain Basketball League's Top Six round gets underway with two games.
Manama faces off with Al Hala at 5.30 pm, followed by defending back-to-back champions Al Ahli taking on Al Najma at 7.30 pm.
Both games are scheduled to take place at Khalifa Sports City Arena in Isa Town.